Home » Ukrainians in Canada
Ukrainians in Canada
05.05.2017

AN AFTERNOON TEA IN HAMILTON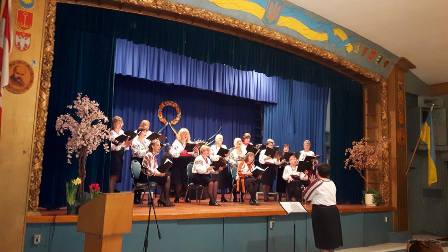 LarysaZariczniak
Hamilton, Canada
On one of the first spring afternoons in early April, the Svitanok Choir hosted an afternoon tea at the Ukrainian Cultural Center in Hamilton. Those attending were treated to songs, tea, biscuits and some fun with pysanky.
The choir sang a few songs which included sing-alongs that many in the crowd knew, including "ChervonaRuta". The tables were also encouraged to draw their own pysanky designs that were then hung up along the walls. The tea was delivered to every table by the members of Svitanok after they finished their 8 piece set along with an assortment of biscuits and cakes that were donated by each member.
The event was organized to support the choir in obtaining new costumes that would be ordered from Ukraine. The event raised almost $900.00 and it was announced that BCU Foundation donated an additional $3000.00 for the choir's needs.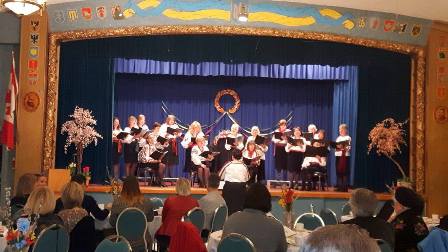 It was also used as an opportunity by the Ukrainian Youth Association (UYA) of Hamilton to fundraise about $300.00 for orphans in Ukraine. At last year's event, the UYA fundraised enough funds to send ten kids to their summer camps in Ukraine. Among these children were included refugees from eastern Ukraine who were displaced because of the war, and children whose fathers were killed in the ATO operation.
The summer camp included all the normal activities that one would expect: morning apel, lectures, music, sport, crafts, along with a few fieldtrips. The camp is very patriotic-centered and used the Ukrainian language throughout its duration. The field trips differ every year, but past years included a trip to Kyiv with a tour of the city center and Maidan Nezalezhnist, which stillhad remnants of the Revolution of Dignity. This was extremely powerful for the youth who have experienced some of the worst hardship life can throw their way. In addition, campers went on a fieldtrip to Baturyn where they learned about the history of the Cossacks and especially Hetman Ivan Mazepa. This trip included a visit to the Hetman palace of Kyrylo Rozumovskyi who transferred the capital of the Hetmanate from Hlukhiv to Baturyn after being elected the Hetman of Ukraine in 1750.
This year's afternoon tea raised enough funds to send another 10 kids to the UYA camps where they will participate in the planned camp activities and become active within the UYA community in Ukraine.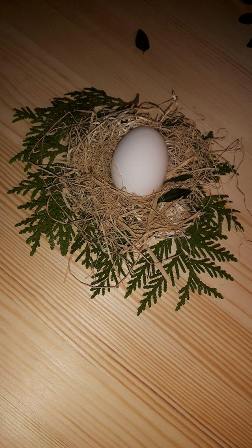 The event also featured art work by Hamilton natives Olenka Kleban and Yvonne Mychailyshyn. Olenka's installation was a series of pysanky that she created using natural dyes; one, for example, was made from red cabbage. She also featured sculptures of cabbages using iron and wax. Her work can be viewed and bought online at: olenkakleban.com.
Yvonne Mychailyshyn brought with her a very personal collection of photographs. She took pictures around her grandmother's house along with portraits of her grandmother.This installation included a nest with an egg in it which was the inspiration for the name of the exhibit, "Nest". Mychailyshyn's work can also be found online: ymphoto.format.com.
The afternoon was an example of how Ukrainian traditions are taking a new light in Hamilton – with Ukrainian songs and English tea enjoyed by all who attended. We can only wait until next year's afternoon tea to see what Svitanok will include to their repertoire of Ukrainian song.