Home » Literature and Art
Literature and Art
11.05.2017
The following article was prepared by Orpheus soprano, Sylvia Hunter: I meet Toronto composer Larysa Kuzmenko on a grey and cloudy afternoon in late January, in the studio of her west-end home—a cheerful and welcoming space filled with books, plants, LPs and CDs, cat figurines, and not one but two grand pianos, with huge windows overlooking winter-bare trees. Together with an Orpheus Choir colleague and his recording equipment, I'm here to talk about her oratorio Золоті Жнива / Golden Harvest / La Moisson dorée, whose Ontario premiere we'll be presenting in May 2017...
Detailed...
---
21.11.2016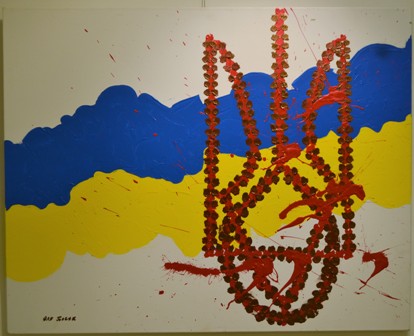 The French painter Edgar Degas once said, "Art is not what you see, but what you make others see."OlhaBosak embodies this spirit in her art exhibit "Live Free!", recently on display in New York, Ottawa, and Toronto. Inspired by the Ukrainian Revolution of Dignity and ensuing war with Russia, Bosak strives, through her artwork,to promote Ukraine among UN member states and spread the word about both current developments in Ukraine and the Ukrainian struggle for values that make Europe meaningful. "The inspiration for this collection of artworks came from Ukraine's struggle over the [past] three years to shed the country's Soviet past and return to Ukraine's European roots," she told the Ukrainian Echo while in Toronto...
Detailed...
---
07.06.2016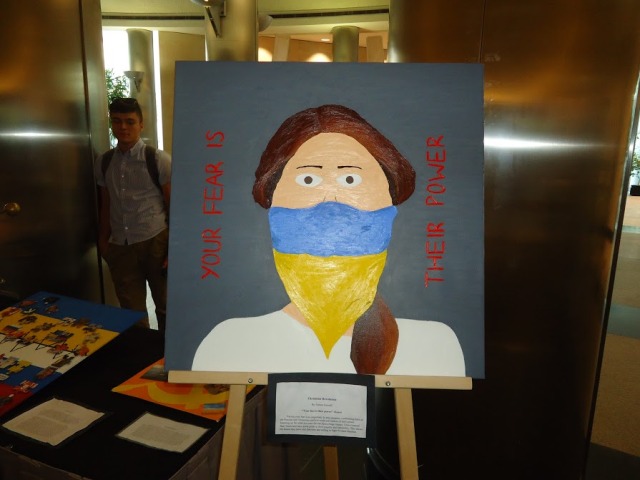 From May 31 to June 4 a unique, "Orwellian" human rights art exhibit was featured in downtown Toronto's Metro Hall. The display showcased art in honor of the Holodomor and the ongoing crisis in Ukraine today, made by students from five different high school classes throughout Toronto. The exhibit is the product of a program titled Orwell Art, a unit of study developed by Toronto high school teacher and community leader Nadia Guerrera to teach about the fragility of democracy and the role of civic engagement in safeguarding it around the world. Orwell Art aims to raise awareness of the Holodomor, the 1932-1933 man-made famine genocide in Ukraine, by bringing the headlines of the current crisis in Ukraine...
Detailed...
---
07.02.2015
On October 9, 2014, a group of thirty-three Ukrainian students, serving internships in the Canadian Parliament, got a chance to travel to Montreal for the Okean Elzy concert. This was Okean's first performance of the 2014 world tour, which will take them to Boston, New York, Chicago, San Francisco, Los Angeles, Frankfurt, London, Minsk, Barcelona, Roma and Paris. The Band celebrates its 20th anniversary this year. It becomes more meaningful and symbolic in light of the events in Ukraine, in which Okean's leader, Svyatoslav Vakarchuk, played a significant role. While the...
Detailed...
---
17.01.2015
The theatre room at St. Vladimir Institute (more commonly known simply as "St. Vlads") was full of hustle and bustle. Next to a large sheet hung on the wall, a production line of paper mache "bricks" was in full swing at one end of a long table. As I carefully made my way around the drying bricks and past a pile of multi-coloured tires, I noticed mismatched dinnerware set out at the other end of the table. A few crew members were gathered around, deliberating how the audience's dinner table should be set in order to best emulate an authentic Ukrainian family dinner ("Blue plates or white ones, patterned bowls or...
Detailed...
---
10.11.2014
For over 40 years, Bohdan Medwidsky was honoured as an academic, builder of the Ukrainian Folklore program, community activist, fundraiser and philanthropist. The Friends of the Ukrainian Folklore Centre honoured him with a celebration aptly named "An Evening with Bohdan Medwidsky," attended by nearly 200 people. Dr. Medwidsky was born in Ukraine, spent his adolescence in Toronto, and was a professor at the University of Alberta for thirty years. The evening program included a book launch of Proverbs in Motion, containing essays, academic articles, memoirs and greetings about Dr. Medwidsky, by him, and dedicated to him (edited by Andriy Nahachewsky and Maryna Chernyavska, CIUSPress, 2014, 348 pp.). The program also marked the 35th Anniversary of the Bohdan Medwidsky Ukrainian Folklore Archives (BMUFA). A special new...
Detailed...
---
01.10.2014
In this final part of our three part interview series with Babylon'13 cinematographers Phillip and Andriy Rozhen, we discuss their film tour across Canada, information reliability issues in Ukraine, and their impressions of the Ukrainian Canadian diaspora. UE: You've spent the last few months travelling across Canada, tell me about it! What made you come here and what have you been up to? A: Right after we shot the revolution we realized how powerful live shows are. We realized that uploading movie clips on YouTube was good, but that it's not...
Detailed...
---
28.09.2014
In Part II of our three part series, Ukrainian Echo talks to Babylon'13 cinematographers Phillip and Andriy Rozhen about the project's current work, the international presence at Euromaidan, and the transformations they witnessed in Ukrainians as a nation. UE: Where does the Babylon'13 project stand today? Are you still filming? A: Yes, almost every week you will find new videos from eastern Ukraine. We shot when Crimea was being annexed, when the war began, and we continue to shoot now. Babylon'13 will likely exist until these major problems in Ukraine don't exist anymore. UE: What is the Babylon'13 project now trying to...
Detailed...
---
26.09.2014
Last week Ukrainian Echo sat down with Phillip and Andriy Rozhen, a director and producer from the organization Babylon'13, a "cinema of civil society." Thousands have watched their videos on YouTube (https://www.youtube.com/user/babylon13ua), which give audiences around the world a firsthand look at what has been happening in Ukraine since late 2013. This summer, Phillip and Andriy were on a cross-country tour of Canada promoting the work of Babylon'13 and the case for Ukraine. Many would agree that their videos are captivating, invaluable tools for information dissemination, and like their videos, the creative minds behind Babylon'13 are no less interesting. UE: What were you doing before Euromaidan revolution began? P/A: We are cinematographers. I am a director and Philip is a producer. Our father is also a professional cinematographer, script writer, and director. UE: How and when did you first...
Detailed...
---
06.04.2014
The digital age has made it harder and harder for people to be immediately drawn and subsequently impressed by music. This however, was not the case on Friday, March 7th during the Zozulka concert, when three remarkable women came together at the University of Toronto to represent the lyrical ethnic songs of the Ukrainian Poltava and Polissia regions. The diverse crowd vibrantly experienced the musical passion these women brought to the North American world from the deep rural steppes and woodland villages of Ukraine. The Zozulka trio: Eva Salina-Primack, Willa Roberts, and the Petro Jacyk Post-Doctoral Fellow Maria Sonevytsky brought forward the folklore...
Detailed...
---
YOUR NEEDS. FOR LIFE ™

WHY JOIN BUDUCHNIST CREDIT UNION?