Home » Diaspora
Diaspora
13.12.2017
On December 15, 2017 a delegation representing members of the National Executive of the League of Ukrainian Canadians (LUC) met with the Hon. Dave Levac, Speaker of the Legislative Assembly of Ontario, in his office at the Main Legislative Building, Queen's Park, Toronto. The purpose of the meeting was to brief Speaker Levac on the situation in eastern Ukraine and Russia's war of aggression against the Ukrainian people. The need for worldwide recognition of the Holodomor as an act of genocide and the importance of the establishment of the Holodomor Memorial in Toronto were also discussed and strongly supported by the Speaker...
Detailed...
---
13.12.2017
On 10-11 November 2017 at The Old Mill in Toronto, Canada, the Ukrainian World Congress (UWC) held the final in a series of international conferences titled "UWC at 50 and Beyond: The Roadmap", which summed up one half of a century of UWC activity and developed certain priorities for the future. Participating in the conference were religious and state high-ranking officials and diplomatic representatives from Ukraine and Canada, politicians, members of the leadership and representatives of UWC member organizations from Australia, Brazil, Great Britain, Greece, Estonia, Canada, Russian Federation, USA, Hungary, and Switzerland, and leaders of UWC partner organizations – International Institute for Education, Culture and Diaspora Relations of Lviv Polytechnic National University and Atlantic Council...
Detailed...
---
03.12.2017
Toronto, ON November 8, 2017 - The Holodomor National Awareness Tour (HNAT) continued its travels across Canada this past summer, engaging communities and schools about the Holodomor, the famine genocide of 1932-1933. From Southwestern Ontario to the Maritime Provinces to Vancouver Island and back to Ontario, the Holodomor Mobile Classroom (HMC) has been on the road this summer since July visiting, communities throughout Canada, many for the first time – Moncton NB, St. John NB, Halifax NS, Sydney NS, Prince Edward Island, Victoria, Vancouver and Richmond BC. Visitors to the HMC at community events continued to express their gratitude for the opportunity to learn about this...
Detailed...
---
03.12.2017
That's a wrap! Our third training mission has officially come to a successful end. Thank you to everyone who made it possible: our donors, the League of Ukrainian Canadians – Oshawa Branch and the Ukrainian Canadian Veteran's Fund; our Canadian trainers, RCMP Corporal Chris Lohnes and Canadian Special Forces veteran Marc Lapointe; Ukrainian trainers Maryna Prokopenko and Ksenia Khudik; HC Marketing and Communications Manager Yana Mikhnich (who helps with everything from translations to website upkeep and taking all of our photos and videos); all of our therapy dog volunteers; and of course, the veterans who...
Detailed...
---
01.11.2017
The Ukrainian Philatelic and Numismatic Society's Toronto chapter, the Ukrainian Collectibles Society (Toronto), is hosting an international philatelic, numismatic and collectibles exhibition "Ukrainepex 2017" on Friday November 10, and Saturday November 11, 2017 at the Old Mill (21 Old Mill Road, Toronto) - Brule Room. The event is being held in conjunction with the Ukrainian World Congress' (UWC) conference "UWC at 50 and beyond: The Roadmap." The juried show promises to be one of the largest ever featuring outstanding Ukrainian philatelic material, both classic and current As well, there will be exhibits of bank notes, coins, medals, sport cards, ex libris and other Ukrainian-related collectable materials...
Detailed...
---
27.10.2017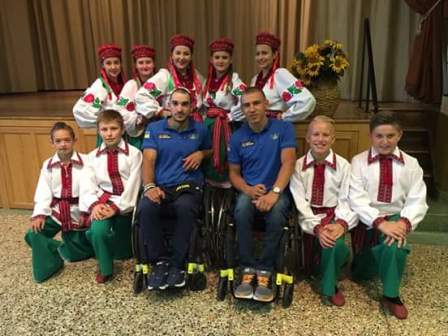 On Sunday 24 September 2017 the Hamilton community gathered for the annual Ukrainian Canadian Social Services (UCSS) Soup Kitchen. Every year the Soup Kitchen is hosted by a different Ukrainian church in Hamilton, and this year Holy Spirit Catholic Church offered their hall. Hamilton's UCSS offered two types of soups for their guests: traditional Ukrainian home-made borsch (a beet based soup) and rosil (chicken bouillon soup). Both soups were accompanied by freshly baked garlic bread. As guests were dining, the Hamilton Barvinok Dance Ensemble performed the Volhynian and Hutzul traditional Ukrainian dances. The UCSS's annual Soup Kitchen raises funds for...e...
Detailed...
---
30.07.2017
Chris Crewther MP Member for Dunkley has agreed to accept the Australian Federation of Ukrainian Organisation's (AFUO) proposal to Chair the Australia – Ukraine Parliamentary Friendship Group (AUPFG). Senator Catryna Bilyk (Tasmania) had also agreed to stay on as deputy chair. Both are very strong supporters of Ukraine and Australia's Ukrainian community. Australian Federation of Ukrainian Organisations (AFUO) Chairman Stefan Romaniw and Dunkley electorate resident Chrestyna Kmetj (who has worked with Mr. Chris Crewther in the past) met with Mr. Crewther today at his electoral office to...
Detailed...
---
30.07.2017
A recent exclusive in the Washington Post exposes the fundamental error at the heart of the West's policy towards Russia. Russia continues to divide Europe and the world into spheres of influence, through an active hybrid war which masterfully utilizes manipulation of the media, influencing politicians, economic blackmail and military aggression in order to secure itself an outsized influence on global events. The Post's reporting shows a U.S. presidential administration paralyzed into inaction by fear of "escalation" or "provocation." It shows an American president seemingly unaware of a basic truth: Vladimir Putin needs no provocation. Not to...
Detailed...
---
19.07.2017
Anniversaries are a good time for reflection, and as we celebrate the 150th. anniversary of Confederation, we should remind ourselves just how fortunate we are to live in Canada. For Ukrainian immigrants, Canada turned out to be the "promised land", although not without some dark days in the early years of settlement in Canada. Hardship, internment and discrimination were eventually overcome and Kiriak's, "Sons of the Soil" became Slavutych's, "Conquerors of the Prairies" and were fully integrated into Canadian society. Ukrainian Canadians have played an important role in Canada's development over the 125 years since Ukrainians first came to Canada: in agriculture, in politics at all levels, in the military, in business and the professions, in education and in all walks of life...
Detailed...
---
19.07.2017
This year, in honour of Canada's 150th anniversary of confederation, Canadians across the country celebrated Canada Day with much pomp and an undeniably festive spirit. Joining in on the celebrations in our nation's capital was the BCU Foundation and distinguished sponsors of its Canada 150: Building the Ukrainian Story gala and art auction. The gala, which took place on June 16, brought together community members and friends to celebrate Canada's 150th anniversary and to raise funds for the launch of a new initiative, the Canada 150 Fund. This fund will provide scholarship opportunities for Ukrainian Canadian graduate students and young scholars, encouraging research in science, technology, business, finance, and other disciplines. Its purpose is to help further develop the Ukrainian Canadian story and its impact on the multicultural landscape of Canada, as well as continue the tradition of excellence set by Ukrainians in Canada...
Detailed...
---
YOUR NEEDS. FOR LIFE ™

WHY JOIN BUDUCHNIST CREDIT UNION?