THE "FRIENDS OF UKRAINE DEFENCE FORCES" FUND

28.02.2015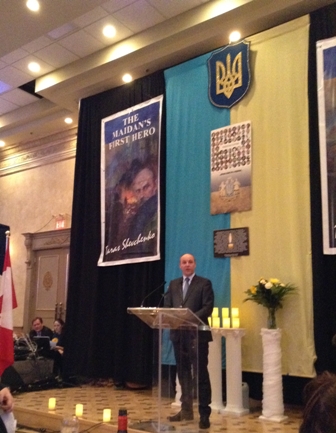 On the first anniversary of the Maidan massacre of February 18-21, Ukrainians around the world gathered to mark one of the most tragic events in recent Ukrainian history. In Toronto, the Ukrainian community welcomed Andriy Parubiy, First Deputy Chairman of the Ukrainian Parliament and Commandant of the Maidan Self-Defence Forces, as the keynote speaker for its commemorative event, A Tribute to the Brave Defenders of Ukraine. The event – which was put on by the Ukrainian Canadian Congress (UCC), UCC Toronto Branch, and the EuroMaidan Canada Committee – also featured addresses by the Minister of Citizenship and Immigration, Chris Alexander, and UCC National President, Paul Grod. Joined by Member of Parliament for Etobicoke Centre and...
---
07.02.2015
The Ukrainian World Congress (UWC) expresses deepest condolences to the families of the victims of a criminal terrorist attack on civilians in Mariupol, Ukraine, on 24 January 2015 in which at least 30 people were killed and 100 wounded, including women, children, and the elderly, by targeted rocket fire. The UWC condemns this crime against humanity and draws the attention of the international community to another indiscriminate targeting of innocent...
---
07.02.2015
On October 9, 2014, a group of thirty-three Ukrainian students, serving internships in the Canadian Parliament, got a chance to travel to Montreal for the Okean Elzy concert. This was Okean's first performance of the 2014 world tour, which will take them to Boston, New York, Chicago, San Francisco, Los Angeles, Frankfurt, London, Minsk, Barcelona, Roma and Paris. The Band celebrates its 20th anniversary this year. It becomes more meaningful and symbolic in light of the events in Ukraine, in which Okean's leader, Svyatoslav Vakarchuk, played a significant role. While the...
---
07.02.2015
On 26 January 2015 Canadian Minister of International Trade Edward Fast and Ambassador of Canada to Ukraine Roman Waschuk visited the offices of the Ukrainian World Congress in Kyiv, Ukraine. During the visit, Director of the "Patriot Defense" program Dr. Ulana Suprun presented the first 100 Improved First Aid Kits (IFAKs) that have been earmarked for funding by the Canadian government under an assistance package that was...
---
07.02.2015
As announced on 18 September 2014, the Ukrainian World Congress launched an exciting new partnership with the prominent think tank, the Atlantic Council. One of the Atlantic Council's projects under its Ukraine in Europe Initiative is the newsletter UkraineAlert. Below is a letter from Atlantic Council editor James Rupert presenting the newsletter with an invitation to subscribe. We encourage you to share...
---
07.02.2015
The Ukrainian World Congress (UWC) urges the international community, including human rights organizations, to demand the immediate release by Russian authorities of former Ukrainian Air Force pilot, Member of Ukrainian Parliament and delegate to the Parliamentary Assembly of the Council of Europe, Lieutenant Nadiya Savchenko, who remains imprisoned for political considerations. The prosecution by Russian authorities of Nadiya Savchenko, kidnapped in Ukraine and...
---
07.02.2015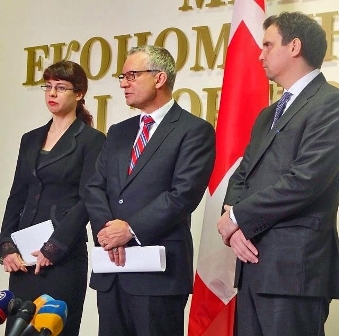 During a recently concluded trade and development mission to Ukraine, Canadian Minister of International Trade, Ed Fast, sought to deliver three main messages. The first was that Canada would continue to be a steadfast and trusted partner in Ukraine, reaffirming its recognition of the enormous security and economic challenges facing the country today. The second was to renew negotiations towards a Canada-Ukraine free trade agreement, which follows a political commitment made by Prime Minister Stephen Harper and Ukrainian President Petro Poroshenko during his visit to Canada...
---
30.01.2015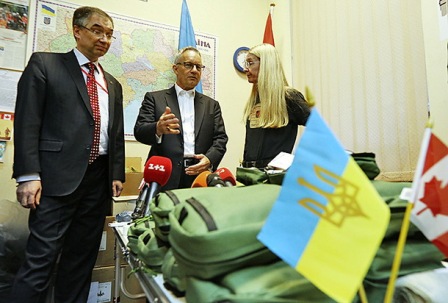 On 26 January 2015 the Canadian Minister of International Trade, Ed Fast, came to the offices of Patriot Defence in Kyiv to announce that Canada will be contributing $1 million for medical support initiatives. Patriot Defence - a volunteer-run humanitarian initiative - will benefit from this funding, which will help support their tactical medical training and the procurement of their Individual First Aid Kits (IFAKs). On display at the announcement were 100 kits, earmarked as the...
---
29.01.2015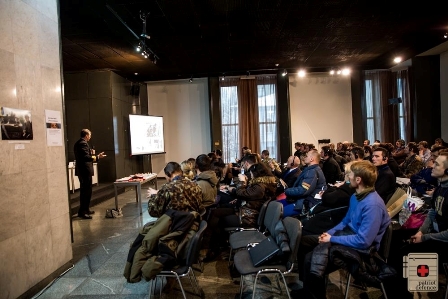 On 19-21 January 2015, various Ukrainian governmental ministries, army and volunteer battalions, medical services, and volunteers gathered for a conference at the Ukrainian House in Kyiv, Ukraine. The conference was organized by Patriot Defence, a Ukrainian World Congress initiative that trains Ukrainian combatants and volunteers in essential tactical medical first aid. Patriot Defence has trained over 11,000 Ukrainian servicemen and women and has issued over 8,000 Individual First Aid Kits (IFAKs). The conference was about the development, standardization, and ...
---
28.01.2015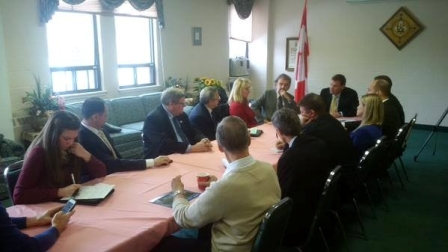 During a visit to Toronto early in the new year, Canadian Minister of Foreign Affairs John Baird met with local Ukrainian Canadian community leaders and stakeholders. The roundtable, hosted by Member of Parliament for Etobicoke Centre and Chair of the Canada Ukraine Parliamentary Friendship Group Ted Opitz, served as a forum during which the Minister was able to directly communicate the federal government's priorities regarding Ukraine. "Ukraine remains a 2015 challenge, not just for Canada but for the civilized world," Baird stated, "[and] it's not exclusively about eastern Ukraine, we...
---
TOGETHER WE ALL WIN

WHY JOIN BUDUCHNIST CREDIT UNION?