THE "FRIENDS OF UKRAINE DEFENCE FORCES" FUND

13.10.2016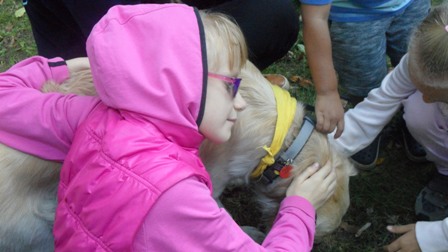 It is not easy being disabled in Kyiv. It is especially difficult being a disabled child in Kyiv. But, with the help of family and charitable organizations, children with disabilities can experience a full life in a country that is usually seen as unwelcoming of special needs children. This attitude generally stems from the Soviet Union's lack of compassion for people with disabilities. In 1980 one Soviet representative even went so far as to state in that "There are no invalids in the USSR!" With this state view, it was little surprise that children who were born different were usually placed in orphanages or stayed hidden in the shadows. Soviet infrastructure did not need to build special ramps for wheelchairs since people who needed...
---
12.10.2016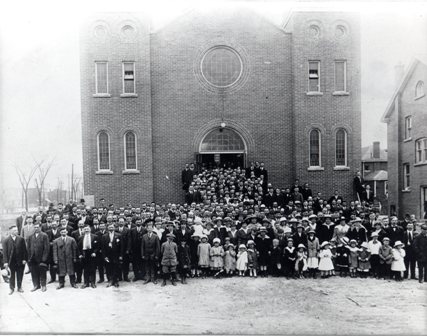 In 1916 several Ukrainian families sat around a table and decided to form a parish. That parish was called Holy Spirit Ukrainian Catholic Church and in October 2016 it is celebrating its 100 year anniversary. While this is a time for celebration, the new priest at Holy Spirit, Father Andrija Petresin, also wants to remind everyone of the hardships the parish has faced over its 100 year existence. In 1916 there were several hundred families that were active participants in the religious and national life of the Ukrainian community in Hamilton,and since thenthat number has ebbed and flowed. The original church was built by the first wave of Ukrainians to Canada, while the...
---
10.10.2016
The Holodomor National Awareness Tour is traveling to Saskatchewan and Manitoba this fall, with the first stop of its Holodomor Mobile Classroom in Yorkton, SK on September 23, 2016. The fall tour will focus on visits to schools, engaging students through a specially designed interactive lesson. In addition, the HMC will be featured at the XXV Triennial Congress of the Ukrainian Canadian Congress taking place in Regina, SK Oct 1-2 and at the Canadian Museum of Human Rights in Winnipeg, MB October 22nd – 23rd, as well as at other community events during the tour. The fall tour is being coordinated with the assistance of Val Noseworthy of the Instruction, Curriculum and ...
---
10.10.2016
Mr. Speaker, today marks the 75th anniversary of the Babyn Yar Massacre. On this date in 1941 in Kyiv, 34,000 Jewish men, women, children and infants were rounded up, stripped of their possessions, shot and dumped into the Babyn Yar Ravine by the Nazis. So began the "Holocaust by Bullets in Eastern Europe." This week a series of commemorative events are being held on this horrific anniversary. The Babyn Yar memorial project was spearheaded by the Ukrainian Jewish Encounter, a ground-breaking group founded and funded by Ukrainian Canadian businessman and visionary James Temerty. Thousands of forgotten "Holocaust by Bullets" sites are...
---
05.10.2016
Very often, Western policies aimed at propagation and support of democratic values find it hard to show solidarity or guarantee security to the country that is struggling for its democratic values. In such moments the role of European and Western democracies becomes sinister, as they start to acquiesce to an authoritarian regime which jeopardizes neighboring countries. The world stays reluctant and passive. It tries to appease the aggressor instead of stopping it, no matter how harsh the method. Doesn't it remind you of the Munich Syndrome of 1938? I think that it does, and now it has reached Ukraine...
---
05.10.2016
The National Executive of the League of Ukrainian Canadians welcomes the unanimous passing of the H.R. 5094 "Stability and Democracy for Ukraine Act" by the U.S. House of Representatives on September 21, 2016. The legislation demonstrates the deep understanding and strong commitment on behalf of the United States to address Russia's military aggression in Ukraine and a threat of a larger military conflict in Eastern Europe. The bill also prohibits the United States from recognizing the Russian Federation's illegal annexation of Crimea and provides for the maintenance of U.S. sanctions with specific reference to Russia's occupation of Ukraine's Crimean peninsula...
---
05.10.2016
The revelation that Russia's intelligence services hacked the computer systems of Hillary Clinton's presidential campaign in what appears an attempt to weaken her in the U.S. election against Donald Trump may seem like the stuff of conspiracy. But the truth is far more alarming. Russia's activities aren't part of a conspiracy. They are elements of an openly stated doctrine — a resurrection of Soviet style political warfare, in which intelligence agencies seek to amplify divisions among their enemies, weakening the Western front by sowing discord and dissent whenever the opportunity presents itself. The political warfare of the Cold War is back — in updated form, with meaner, more modern tools, including a vast state media empire in Western languages, hackers, spies, agents, useful idiots, compatriot groups, and hordes of internet trolls. The target of the hacks wasn't just Clinton. Nor is Moscow much interested in supporting Trump (willing useful idiot though he may be). What the Russians have in their sights is nothing less than the democratic fabric of American society and the integrity of the system of Western liberal values...
---
05.10.2016
Prior to almost every great historical change in Europe there was a period of exhaustion. A tiredness of being conscientious. This rule was especially profound in the 20th century. This tragic pattern takes away the right to be silent now, when that uncertainty and insecurity once again dominate in Europe. The optimistic prospects for the European Union are surrounded by clouds foretelling of economic difficulties and social anxiety. Hundreds of thousands refugees have appeared. Terrorism has undermined the peace of the previously safest locations. For many collective issues have become annoying irritants. The exhaustion from the incessant stream of threats could have been predicted. But now that exhaustion has become a danger: it provokes a moral alienation, allowing us to compromise with truthfulness. That is why Europe is being overwhelmed by populism with its very simple responses to complex issues. This is why xenophobia and chauvinism emerge as a defense mechanism against foreigners. This is why it becomes easier to hide from problems, to avoid the additional responsibilities, to look inward. This turns to self-isolation...
---
22.09.2016
On 27 August 2016 the Ukrainian World Congress (UWC) concluded its three-day Annual General Meeting (AGM) which took place at the Taras Shevchenko Kyiv National University. 184 delegates and guests from 26 countries participated in the AGM which officially opened on 25 August 2016. The official portion of the AGM started with prayers led by the Head of the Ukrainian Orthodox Church Kyiv Patriarchate His Holiness Patriarch Filaret and the Head of the Ukrainian Greek Catholic Church His Beatitude Patriarch Sviatoslav (Shevchuk), and a tribute to Ukrainian heroes, who fought for an independent Ukraine, followed by a performance of "Plyve Kacha" by the "Dnipro" Choir. Welcoming remarks were delivered by the Chairman of the Parliament of Ukraine Andriy Parubiy. Participants of the AGM were also greeted by the Minister of Culture of Ukraine Yevhen Nyschuk, Acting Minister of Health of Ukraine Dr. Ulana Suprun, Rector of the Taras Shevchenko Kyiv National University Dr. Leonid Hubersky, Members of Parliament of Ukraine Refat Chubarov, Valeriy Patskan and Ivan Krulko, Special Envoy of the President of Ukraine for Children's Rights Mykola Kuleba, Director of the International Institute for Education, Culture and Diaspora Relations of the National University "Lviv Polytechnic" Dr. Iryna Kluchkovska and Prorector for Academic Works of the Ivan Franko National University of Lviv Dr. Roman Gladyshevskii...
---
22.09.2016
The Organization of Ukrainian Nationalists of Stepan Bandera condemns plans to conduct on September 18, 2016 elections to the State Duma of the Russian Federation in the occupied territories of Autonomous Republic of Crimea and Sevastopol. We appeal to governments to not recognize the election results and to encourage the international community to do likewise...
---
YOUR NEEDS. FOR LIFE ™

WHY JOIN BUDUCHNIST CREDIT UNION?