THE "FRIENDS OF UKRAINE DEFENCE FORCES" FUND

26.11.2015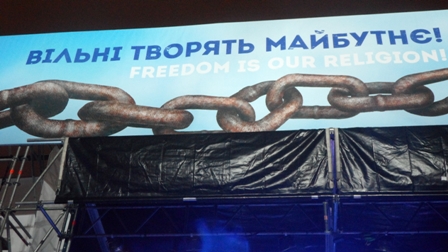 It was a cold, foggy, and rainy night. The concert was set to begin at four in the afternoon, but by 16:20 it was clear that it would be delayed. People wandered about Khreschatyk Street not knowing what the planned schedule was. Nor did they know what to do with themselves: are we commemorating or celebrating the two year anniversary of the beginning of Euromaidan? November 21, 2015 was – weird. The day began with a 10:00 "meeting" (the kind they had during the Maidan) but it did not generate many attendees. Those who did come out walked up Institutska Street to protest the government. There were shouts and angry cries, but this peaked after a few hours and people melted away. Evgeny Afineevsky's "Winter on Fire" also premiered in Kyiv and included replica barricades outside the movie theatre. The action, or inaction, occurred later, at...
---
23.11.2015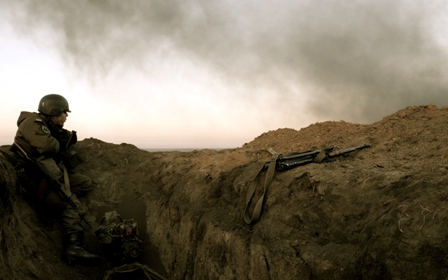 A month and a half ago, while traveling along the frontlines of eastern Ukraine, I predicted that the Minsk II ceasefire agreements would not be respected by the Kremlin and its puppet Peoples' Republics. It was clear to me—in spite of a tentative ceasefire put in place on October 2—that the situation in the Donbas would continue to deteriorate. Unfortunately, my projections were right. Fighting has flared up again. Over the last three weeks, Ukrainian field commanders, humanitarian volunteers, and local journalists told me that the Russia-backed fighters have been engaging in provocative shootings from mortars, heavy machine guns, automatic weapons, and snipers, and that these have become a regular occurrence along the entire...
---
23.11.2015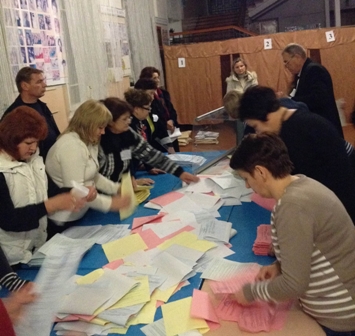 On 25 October nation-wide local elections were held in Ukraine. These elections saw over 350,000 candidates running for over 168,450 positions in municipal, district, and regional councils. Governing the elections was a highly complex, much-criticized electoral law adopted in mid-July. Runoff mayoral elections and re-run elections for certain councilor seats were held three weeks later, on 15 November. According to the new local election law, a candidate had to be included in a party list in order to be able to run. However, to be elected, the party had to meet the five percent threshold, which critics argued hindered national minority representation as this threshold would be difficult for any national minority-based party to meet. The election law that was adopted was also taken from a draft that was not subject to...
---
12.11.2015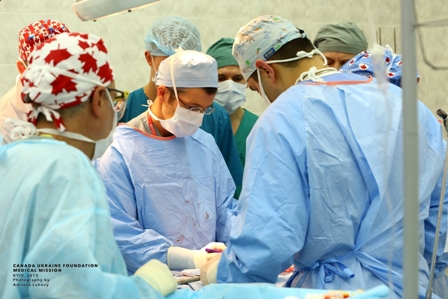 Overlooking an 11 year old boy, Dr. Oleh Antonyshyn remarks, "Are you listening or are you watching a movie on your tablet?" The boy smiles. This little boy's name is Mykola. In August he and his friends found a box full of rocket-propelled grenades (RPG's) and began to play. When Mykola's brother fell when a friend tagged him, the RPG he was holding exploded. Mykola's brother died and Mykola was airlifted to Zaporizhia for medical aid where the doctors were able to save his life. However, both his legs and his right arm had to be amputated, there was a hole left in the middle of his forehead and massive scaring on his cheek and...
---
05.11.2015
On the week of 10-16 May 2015 a total of 54 reconstructive procedures were performed on 29 patients at the Main Kyiv Military Clinic. These procedures were performed by Canadian surgeons and nurses on the second medical mission of the Canada-Ukraine Foundation (CUF). Many patients and medical professionals came back from CUF's first medical mission in November 2014. One of those returning for the mission was Toronto nurse Damien Lyn. He was on the...
---
05.11.2015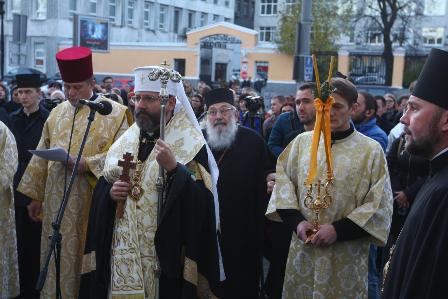 On 29 July 1865 Count Roman Aleksander Maria Sheptytsky - later known as Metropolitan Andrey - was born in the village of Prylbychi. One hundred and fifty years later, in the courtyard of St. George's Cathedral in Lviv, President Poroshenko unveiled a monument to the Venerable Metropolitan Andrey Sheptytsky. The last week of October 2015 was dedicated to the memory of this Metropolitan of the Ukrainian Greek-Catholic Church who lived through two world wars, publicly opposed Hitler's genocidal tendencies, and led his flock through some of Ukraine's most turbulent years. Roman was not someone who looked like he would become one of...
---
04.11.2015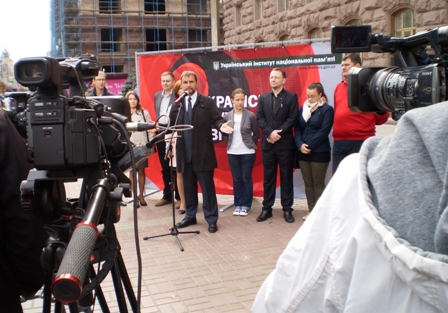 On September 29, 2015 the Ukrainian Institute of National Memory (INM) opened their new exhibit on the Second World War in Ukraine in front of Kyiv City Hall. The exhibit, called "Ukraine's Second World War," is only one of many projects that the INM has created throughout the past year and a half. When Volodymyr Viatrovych became the new head of the INM at the end of March 2014 he soon began to recruit new staff. There was a high turnover since the majority of the old staff were card-carrying communists, and as Viatrovych points out, the Institute needed renewal since "it was basically...
---
02.11.2015
The Holodomor National Awareness Tour "Mobile Classroom" is preparing to take to the road this fall with the goal of increasing awareness of the Holodomor across Canada. A Fleetwood RV bus has been purchased as the centerpiece of the tour, a federally funded initiative to educate Canadians about the famine engineered by Joseph Stalin in 1932-33. Through the lens of the Holodomor, the tour will promote understanding of the consequences of hate and discrimination and highlight the values of freedom, democracy, human rights and the rule of law...
---
02.11.2015
In 2014, the Canada-Ukraine archaeological expedition continued excavating the remnants of Hetman Ivan Mazepa's main residence in Baturyn, the former capital of the Cossack state. Prior to 1700, he constructed a richly embellished brick baroque palace that was burned by Russian troops during their total destruction of the town in 1708. Many fragments of fine multicoloured glazed and terracotta floor, stove, and façade revetment tiles were found. These decorative details of Mazepa's villa represent the advanced 17th-century Kyivan school of architectural majolica...
---
22.10.2015
On 1 October 2015 in Washington, USA, Ukrainian World Congress (UWC) President Eugene Czolij met with Member of Parliament of Ukraine and Chairman of the Mejlis of the Crimean Tatar People Refat Chubarov and Chairman of the General Council of the Euro-Asian Jewish Congress Josef Zissels. Specific attention during the meeting was dedicated to the strategy for cooperation between the UWC, the Mejlis of the Crimean Tatar People and the General Council of the Euro-Asian Jewish Congress on the important issues of defending the territorial integrity of Ukraine, including Crimea, and the fundamental freedoms and human rights of Ukrainian citizens, counteracting Russian disinformation and broadening joint actions with other ethnocultural minorities on these issues...
---
YOUR NEEDS. FOR LIFE ™

WHY JOIN BUDUCHNIST CREDIT UNION?