THE "FRIENDS OF UKRAINE DEFENCE FORCES" FUND

21.07.2016
On 1-5 July 2016 in Tbilisi, Georgia, Ukrainian World Congress (UWC) President Eugene Czolij participated in the 25th Annual Session of the Organization for Security and Co-operation in Europe (OSCE) Parliamentary Assembly. On 2 July 2016, the UWC President addressed a Side Event of this Session on the topic Violations of human rights and fundamental freedoms in Crimea, organized jointly by the Permanent Delegation of Ukraine to the OSCE Parliamentary Assembly and the UWC...
---
21.07.2016
You could say that Serhiy Kvit is a man on a mission. The soft-spoken 50-year-old former journalist may no longer be Ukraine's minister of education and science, having stepped down from that post back in April as part of a governmental reshuffle that accompanied the resignation of controversial Prime Minister Arsenii Yatsenyuk. But he nonetheless remains at the forefront of the fight for the intellectual future of his country. That was obvious during Kvit's visit to Washington, D.C. in late May. In public appearances at several prominent policy institutions, including the Woodrow Wilson International Center for Scholars and the American Foreign Policy Council, the former minister communicated a clear and unequivocal message...
---
07.07.2016
Few foreign leaders seem enthusiastic about the prospect of a Donald Trump presidency. But there is one who should be pleased: Vladimir Putin. Or so Trump seems to think. Most prominent Republicans criticize President Obama for reacting too feebly to Russian domestic oppression, the Russian invasion of southern and southeastern Ukraine, and Russia's growing threat to NATO in Eastern Europe. Trump, on the other hand, has praised Putin's "strong" leadership at home, called NATO "obsolete and expensive," and made a point of describing his friendship with Putin—though it seems to be entirely imaginary...
---
07.07.2016
The Guardian Angels Ukraine veterans' rehabilitation project, initiated by the LUCW, under the auspices of the International Council in Support of Ukraine, has announced the newest phase of its ongoing activities in the area of veterans health services, knowledge-exchange and educational reform. Launched in December 2014, the Canadian project began as a response to the urgent need to provide treatment for injured Ukrainian soldiers wounded as result of Russia's massive military incursion into eastern Ukraine. The project works with various levels of the Ukrainian and Canadian governments, academic institutions, NGO's, military and civilian facilities, and charitable foundations. The rehabilitation project collaborates with international experts from this multidisciplinary field of health care, including physiatrists, physiotherapists, occupational therapists, psychologists, academics, rehabilitation centre managers, and many others...
---
30.06.2016
A little more than one year has elapsed since Ukraine's President Poroshenko signed into law the so called decommunization laws of Ukraine. Since then and in accordance with the laws, names of cities and streets have been changed and the Communist party of Ukraine was prevented from participating in local elections. Lawsuits have banned communist the party and the party has appealed to the European Court in Strasbourg. The process is playing itself out...
---
30.06.2016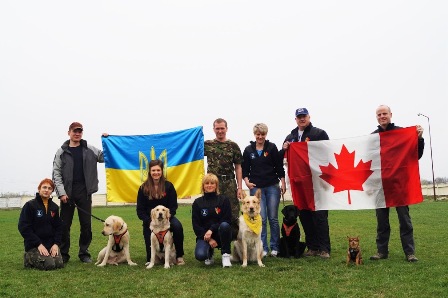 In September 2015 Ukrainian Echo published an exclusive piece about Hero's Companion, a new Ukrainian-Canadian project which helps to address the growing need for psychological rehabilitation in Ukrainian veterans using the power of man's best friend – dogs. In this follow-up piece, Hero's Companion Director Kalyna Kardash gives us an update on the project's progress and plans for the future. "I'm going to kill him, does he know how easy it is for me to get a gun these days?! I'll show him..!" It's 9:40 a.m. on a rainy Sunday morning in Kyiv. We've been waiting for half an hour for this last veteran to arrive so that the group can begin its Tomatis therapy session. "Ok Oleh[*], first we need to calm down, take a few...
---
07.06.2016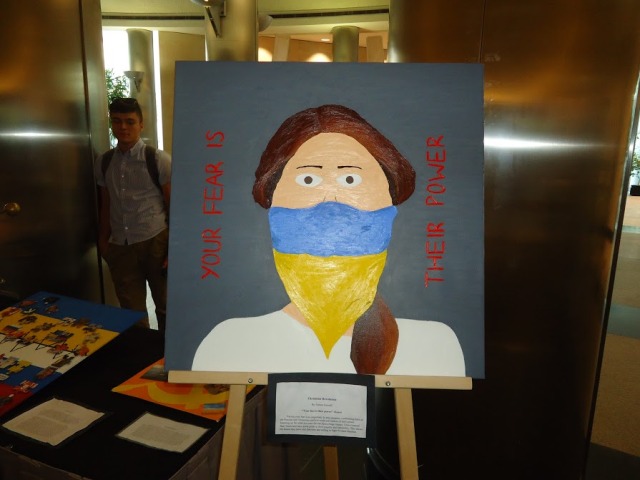 From May 31 to June 4 a unique, "Orwellian" human rights art exhibit was featured in downtown Toronto's Metro Hall. The display showcased art in honor of the Holodomor and the ongoing crisis in Ukraine today, made by students from five different high school classes throughout Toronto. The exhibit is the product of a program titled Orwell Art, a unit of study developed by Toronto high school teacher and community leader Nadia Guerrera to teach about the fragility of democracy and the role of civic engagement in safeguarding it around the world. Orwell Art aims to raise awareness of the Holodomor, the 1932-1933 man-made famine genocide in Ukraine, by bringing the headlines of the current crisis in Ukraine...
---
03.06.2016
The Holodomor Mobile Classroom (HMC) is officially on the road, spreading awareness about the man-made Famine of 1932-33 in which millions of Ukrainians were starved to death. The HMC visited six Ontario high schools and three Ukrainian Saturday schools in March and April, reaching more than 650 students with up to four lessons per day being given in the HMC. Mark Melnyk, the Department Head of History for the York Region District School Board, called it "one of the coolest, most immersive learning experiences we have been fortunate to share with our students," adding that "its use of state-of-the-art technology is captivating for a generation of students that are often hard to impress."...
---
03.06.2016
In the six years since my lawyer Sergei Magnitsky was murdered by the Putin regime for uncovering a massive government corruption scheme, I have been on a worldwide campaign to get justice for him. At first I tried to find justice in Russia, but Mr. Putin circled the wagons and exonerated those involved. My next step was to look for justice outside of Russia. That proved to be equally fruitless. I quickly realized that there are no instruments of justice in the West for crimes committed in authoritarian regimes like Russia...
---
28.05.2016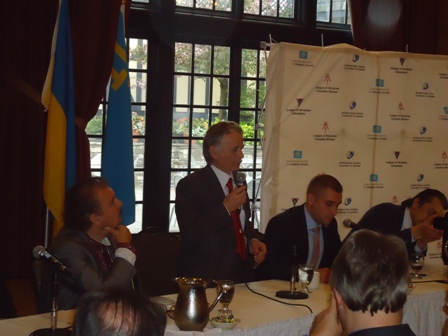 "There used to be so many of them – they had their own schools, cultural centres, mosques" recalls one former resident of Crimea, referring to the Crimean Tatar population that was once a prominent feature of the peninsula. That was before the Second World War. Today, the ethnic makeup of Crimea looks much different, largely the result of a 1944 genocide carried out against the Crimean Tatars by Soviet dictator Joseph Stalin. In May of that year Stalin ordered the deportation of 230,000 Crimean Tatars on trumped up charges that they collaborated with the invading Nazi forces. Of those deported, nearly half died. Crimean Tatars are now facing a...
---
YOUR NEEDS. FOR LIFE ™

WHY JOIN BUDUCHNIST CREDIT UNION?