THE "FRIENDS OF UKRAINE DEFENCE FORCES" FUND

18.11.2014
Just how many unmarked tanks, rocket systems, and fighters have to cross the Ukrainian/Russian border before the international community calls it an "act of war"? How many tonnes of bullets, guns, and cash have to be fed to pro-Russia rebels before Russia is recognised as "a state sponsor of terrorism"? How many innocent men, women, and children - whether Ukrainian or non-Ukrainian - have to die for the sake of Russian territorial expansion? The precise number of weapons and combatants which Russia sent across the Ukrainian border is hard to count. But it is enough to...
---
18.11.2014
Mr Schuler wrote: "I also had the Honor of visiting a Ukraine Military Hospital in Kyiv. I spoke to several front line wounded Soldiers and they were very, very pleased that a Canadian Politician would visit them. I was not allowed to ask about their deployment, neither could we take any pictures of them. It was very emotional for me as one of the wounded who is all of 20 years old, asked if I would like to see his wounds, unknown to him I swallowed very hard, I felt a little nauseas, but I smiled and said of course I would love to! I realized he could be my son. He had been hit "5" times and showed me where the bullets and shrapnel hit him. As he spoke I realized that his spirits were high, but after what he's been...
---
18.11.2014
On 28 October 2014 Ukrainian World Congress (UWC) President Eugene Czolij spoke to members of the University of Ottawa Ukrainian Students' Club in Ottawa, Canada, on the topic World Crisis with Ukraine in the Forefront. In his address the UWC President noted that EuroMaidan was testimony to the maturity and unity of the Ukrainian nation in the fight for the ideals of democracy and Ukrainian statehood, and debunked the myth about the invincibility of the Russian Federation. He also emphasized that events surrounding the annexation of Crimea by Russia and its current aggression in Eastern Ukraine constitute a global crisis. Eugene Czolij further shared information about the work of the UWC dedicated to...
---
18.11.2014
In the House of Commons, James Bezan, Member of Parliament for Selkirk-Interlake gave the following statement on the illegal elections held in Eastern Ukraine: "Mr. Speaker, "Just one week after the Ukrainian Parliamentary Elections, the Kremlin-backed terrorist groups of the Donetsk and Luhansk People's Republics held pseudo-elections in Eastern Ukraine that were illegal and illegitimate. "Ballots were cast in the presence of armed men, and information was actively spread that those who did not come to vote would be deemed "disloyal" and judged according to martial law. "Pensioners were told...
---
18.11.2014
The Ukrainian Congress Committee of America's Kharkiv mission consisted of 11 persons who came from the United States, Canada, the United Kingdom and Germany. They monitored in four election districts within the City of Kharkiv (#s 168,169,171, 173) and two election districts (#'s 175 and 180). District #175 was specifically suggested because of its proximity to Russia and suspicions raised by local Kharkiv NGO's regarding probabilities of voter fraud or irregularities. The general consensus was that the elections were conducted in a reasonably free and democratic fashion excepting some irregularities: Several precincts in electoral district # 175 failed to display properly the voting bloc/party posters bearing the names and photos of the first five candidates of each bloc/party and the platform. In two precincts visited the...
---
18.11.2014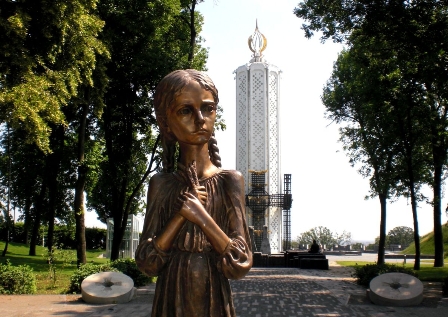 Every November Ukrainians around the world pay homage to the millions of victims of the 1932-1933 Holodomor, a man-made genocidal famine that took place in Ukraine, imposed by Soviet dictator Joseph Stalin and his cronies. Eight decades later, Ukraine is again facing a Kremlin foe that is employing many of the same tactics used in Ukraine in the 1930s. As things stand, Ukraine is on the brink of all-out warfare with the Russian Federation. Up until this point, however, the war raging in Ukraine's east has been an unofficial conflict...
---
10.11.2014
The Ukrainian Canadian Care Centre's backyard was transformed into a sunflower-filled Ukrainian Village with Baba's House, traditional costumes, and colourful decorations made by the residents. Yvan Baker, MPP for Etobicoke Centre opened the event for over 270 family members, residents, volunteers, staff and the community who enjoyed the strolling musicians, food, music, games and prizes, donated by over 30 local businesses and volunteers. The BBQ kicked off the Care Centre's participation in this year's October 19, 2014 Scotiabank Toronto Waterfront Marathon, our largest annual one day fundraiser, sponsored by Cardinal Funeral Homes Ltd. The afternoon created awareness and sparked interest in those who want to have fun and walk or run to raise funds for the quality of life for our seniors. Contact Anna Denkova at 647-725-0843 to...
---
10.11.2014
For over 40 years, Bohdan Medwidsky was honoured as an academic, builder of the Ukrainian Folklore program, community activist, fundraiser and philanthropist. The Friends of the Ukrainian Folklore Centre honoured him with a celebration aptly named "An Evening with Bohdan Medwidsky," attended by nearly 200 people. Dr. Medwidsky was born in Ukraine, spent his adolescence in Toronto, and was a professor at the University of Alberta for thirty years. The evening program included a book launch of Proverbs in Motion, containing essays, academic articles, memoirs and greetings about Dr. Medwidsky, by him, and dedicated to him (edited by Andriy Nahachewsky and Maryna Chernyavska, CIUSPress, 2014, 348 pp.). The program also marked the 35th Anniversary of the Bohdan Medwidsky Ukrainian Folklore Archives (BMUFA). A special new...
---
10.11.2014
The Anna Mazurenko Children's Health Centre was inaugurated in Lviv. It will be located near the Western Ukrainian Specialized Children's Medical Centre, better known as the Chornobyl Hospital. The expertise for the Anna Mazurenko Centre will be provided by specialists who worked in long-term cooperation with similar children's health centres in Toronto (Canada) and Los Angeles (USA). The uniqueness of the Mazurenko Centre is that unlike existing centres, it will focus primarily on mental health problems of children, which is a very important but often neglected area of health care. The services of the Mazurenko Centre will be delivered in accordance with modern European standards, protocols of diagnostics and therapy in children's health. Dr. Antin Kushnir, head of the...
---
10.11.2014
The Ukrainian World Congress (UWC) shares the sadness of the Canadian people over the killings of soldiers in two separate incidents, the most recent in the nation's capital city Ottawa. "The Ukrainian World Congress expresses condolences to the families of the victims who lost their lives in these senseless acts of violence, and we stand with all Canadians in defence of the freedom and democratic principles to which these men were...
---
TOGETHER WE ALL WIN

WHY JOIN BUDUCHNIST CREDIT UNION?
«HOLODOMOR: THE UKRAINIAN GENOCIDE»