THE "FRIENDS OF UKRAINE DEFENCE FORCES" FUND

28.07.2016
The Trudeau government has cut off the Ukrainian military from accessing Canadian satellite imagery used for high-resolution surveillance, which one expert says is a sign of a possible shift in Canada-Ukraine relations. In 2015, the Harper government revealed it was sharing information from Canada's RADARSAT-2 with the Ukra­inian Armed Forces in the fight against Russian-backed rebels, a decision it said it had made in December 2014...
---
28.07.2016
James Bezan, Official Opposition Critic for National Defence, issued the following statement in response to the government's announcements at the NATO Summit in Warsaw, Poland and from the Prime Minister's trip to Ukraine: "We support the signing of the Canada-Ukraine Free Trade Agreement which was negotiated and concluded by the previous Conservative government. This deal will continue to strengthen the Canada-Ukraine partnership in peace and prosperity. The Ukrainian people continue to face enormous security and economic challenges, and Canada must remain a trusted and steadfast partner during Ukraine's time of need, instead of moving to normalize and improve relations with Vladimir Putin...
---
28.07.2016
The Ukrainian Canadian Congress (UCC) congratulates the Prime Minister of Canada, The Right Honourable Justin Trudeau, on his historic visit to Ukraine, which took place July 10-12, and welcomes the announcement of additional Canadian support for Ukraine. Prime Minister Trudeau was accompanied by Canada's Minister of International Trade, the Honourable Chrystia Freeland, MP Borys Wrzesnewskyj (Chair of the Canada-Ukraine Parliamentary Friendship Group) and a delegation of community leaders from the UCC led by UCC National President Paul Grod. The UCC delegation was comprised of Renata Roman (UCC National Vice-President); Zenon Potichnyj (President, Canada-Ukraine Chamber of Commerce); Olena Koszarny (Chair, UCC Ukraine Advisory Council); Jaroslaw Balan (Chair, UCC Canada Ukraine Committee); Marc Shwec (Chair, Euromaidan Canada); Alexandra Chyczij (Ukrainian Canadian Bar Association); Cassian Soltykevych (President, Ukrainian Canadian Students Union); Gerald Luciuk (Chair, Saskatchewan-Ukraine Advisory Committee); Oksana Bondarchuk (President, UCC Manitoba Provincial Council), and Orest Gawdyda (President, UCC Regina)...
---
21.07.2016
On 1-5 July 2016 in Tbilisi, Georgia, Ukrainian World Congress (UWC) President Eugene Czolij participated in the 25th Annual Session of the Organization for Security and Co-operation in Europe (OSCE) Parliamentary Assembly. On 2 July 2016, the UWC President addressed a Side Event of this Session on the topic Violations of human rights and fundamental freedoms in Crimea, organized jointly by the Permanent Delegation of Ukraine to the OSCE Parliamentary Assembly and the UWC...
---
21.07.2016
You could say that Serhiy Kvit is a man on a mission. The soft-spoken 50-year-old former journalist may no longer be Ukraine's minister of education and science, having stepped down from that post back in April as part of a governmental reshuffle that accompanied the resignation of controversial Prime Minister Arsenii Yatsenyuk. But he nonetheless remains at the forefront of the fight for the intellectual future of his country. That was obvious during Kvit's visit to Washington, D.C. in late May. In public appearances at several prominent policy institutions, including the Woodrow Wilson International Center for Scholars and the American Foreign Policy Council, the former minister communicated a clear and unequivocal message...
---
07.07.2016
Few foreign leaders seem enthusiastic about the prospect of a Donald Trump presidency. But there is one who should be pleased: Vladimir Putin. Or so Trump seems to think. Most prominent Republicans criticize President Obama for reacting too feebly to Russian domestic oppression, the Russian invasion of southern and southeastern Ukraine, and Russia's growing threat to NATO in Eastern Europe. Trump, on the other hand, has praised Putin's "strong" leadership at home, called NATO "obsolete and expensive," and made a point of describing his friendship with Putin—though it seems to be entirely imaginary...
---
07.07.2016
The Guardian Angels Ukraine veterans' rehabilitation project, initiated by the LUCW, under the auspices of the International Council in Support of Ukraine, has announced the newest phase of its ongoing activities in the area of veterans health services, knowledge-exchange and educational reform. Launched in December 2014, the Canadian project began as a response to the urgent need to provide treatment for injured Ukrainian soldiers wounded as result of Russia's massive military incursion into eastern Ukraine. The project works with various levels of the Ukrainian and Canadian governments, academic institutions, NGO's, military and civilian facilities, and charitable foundations. The rehabilitation project collaborates with international experts from this multidisciplinary field of health care, including physiatrists, physiotherapists, occupational therapists, psychologists, academics, rehabilitation centre managers, and many others...
---
30.06.2016
A little more than one year has elapsed since Ukraine's President Poroshenko signed into law the so called decommunization laws of Ukraine. Since then and in accordance with the laws, names of cities and streets have been changed and the Communist party of Ukraine was prevented from participating in local elections. Lawsuits have banned communist the party and the party has appealed to the European Court in Strasbourg. The process is playing itself out...
---
30.06.2016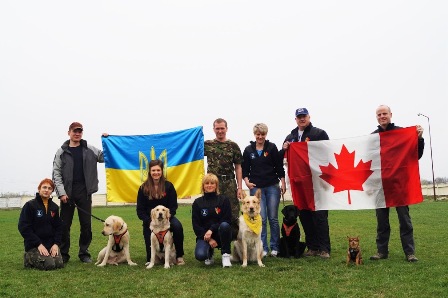 In September 2015 Ukrainian Echo published an exclusive piece about Hero's Companion, a new Ukrainian-Canadian project which helps to address the growing need for psychological rehabilitation in Ukrainian veterans using the power of man's best friend – dogs. In this follow-up piece, Hero's Companion Director Kalyna Kardash gives us an update on the project's progress and plans for the future. "I'm going to kill him, does he know how easy it is for me to get a gun these days?! I'll show him..!" It's 9:40 a.m. on a rainy Sunday morning in Kyiv. We've been waiting for half an hour for this last veteran to arrive so that the group can begin its Tomatis therapy session. "Ok Oleh[*], first we need to calm down, take a few...
---
07.06.2016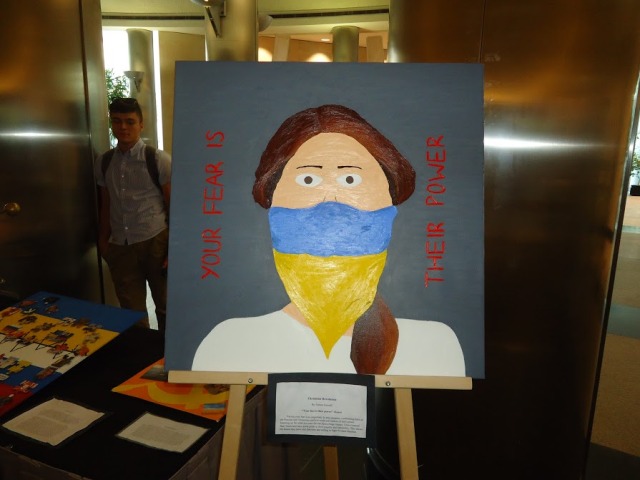 From May 31 to June 4 a unique, "Orwellian" human rights art exhibit was featured in downtown Toronto's Metro Hall. The display showcased art in honor of the Holodomor and the ongoing crisis in Ukraine today, made by students from five different high school classes throughout Toronto. The exhibit is the product of a program titled Orwell Art, a unit of study developed by Toronto high school teacher and community leader Nadia Guerrera to teach about the fragility of democracy and the role of civic engagement in safeguarding it around the world. Orwell Art aims to raise awareness of the Holodomor, the 1932-1933 man-made famine genocide in Ukraine, by bringing the headlines of the current crisis in Ukraine...
---
YOUR NEEDS. FOR LIFE ™

WHY JOIN BUDUCHNIST CREDIT UNION?