THE "FRIENDS OF UKRAINE DEFENCE FORCES" FUND

08.11.2017
Over the history of the last half milennium Ukrainian Polish relations have been strained, to put it mildly. This included at least three invasions of Ukrainian territory by the Poles and accusations of genocide by both sides. However, in 1991 when the Ukrainians proclaimed a free and independent Ukrainian state, the Republic of Poland was the first country (Canada may have been first) to recognize Ukrainian independence. Poland's early rapprochement with Ukraine despite the history, was not all that surprising given its immediate past Soviet Russian domination and a keen memory of what happened in Hungary in 1956 and Czechoslovakia in 1968. Independent Ukraine was seen by Poland as a buffer to Russia, a constant source of concern to both. Ukrainian-Polish relations were good or at the very least workable in every sphere including historical issues. And then the Party of Law and Justice came to power in Poland and everything seemed to change...
---
08.11.2017
I. Between 2014 and 2016, the provocations against the Ukrainian community in Poland and against Polish-Ukrainian relationships have been organized and coordinated in south-eastern Poland. These provocations had the form of defacing and destruction of memorials associated with the period of the Second World War and the Polish-Ukrainian struggles in the post-war period. Destruction and desecration occurred in: Białystok neer Liski (ukr. Білостік), municipality of Dołhobyczów, Lublin Voivodship...
---
08.11.2017
1. UNSCHOLARLY RESEARCH BY WESTERN APOLOGISTS - Their writing is Ideologically driven with prepared in advance conclusions - They have never visited Ukraine - They have never visited the Donbas frontlines - They only use footnotes from Russian media, including pro-Putin propaganda - They do not interview Ukrainian politicians, journalists and NGO's...
---
08.11.2017
Thank you, Mr. Chairman and the members of the Standing Committee on National Defence, for convening these important hearings and conducting the study on Canada and the Crisis in Ukraine, and for the invitation to appear alongside such an impressive group of renowned experts with whom you have been consulting over the past few weeks. I can clearly recall how five years ago I appeared before similar hearings convened by the Standing Committee on Foreign Relations and International Development. At those hearings, I emphasized the authoritarian criminal regime of the then President of Ukraine Viktor Yanukovych and Russia as the two major threats to the Euro-Atlantic future of Ukraine as well as security and stability of the West...
---
08.11.2017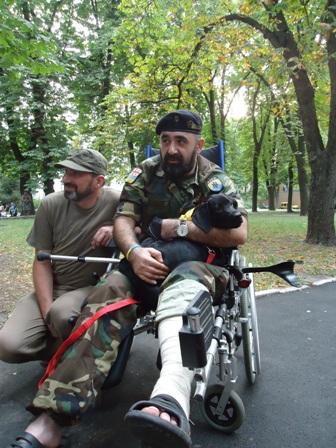 I often get asked "How's Ukraine? How's Kyiv?" upon my returns, and I never really know how to respond. Because on the one hand the trendy restaurants popping up everywhere, lively night scene, luxury cars parked on street corners, and weekly festivals would indicate that everything is great, and that war is the furthest thing from anyone's mind. But then, lurking behind these facades are the military hospitals and rehabilitation centres, filled with men and women who have been physically and psychologically traumatized by war, often roaming the hallways or sitting in their rooms with blank stares and empty eyes. There are the...
---
01.11.2017
The Ukrainian Philatelic and Numismatic Society's Toronto chapter, the Ukrainian Collectibles Society (Toronto), is hosting an international philatelic, numismatic and collectibles exhibition "Ukrainepex 2017" on Friday November 10, and Saturday November 11, 2017 at the Old Mill (21 Old Mill Road, Toronto) - Brule Room. The event is being held in conjunction with the Ukrainian World Congress' (UWC) conference "UWC at 50 and beyond: The Roadmap." The juried show promises to be one of the largest ever featuring outstanding Ukrainian philatelic material, both classic and current As well, there will be exhibits of bank notes, coins, medals, sport cards, ex libris and other Ukrainian-related collectable materials...
---
01.11.2017
On October 17, 2017, Bill S-226, the Justice for Victims of Corrupt Foreign Officials Act (Sergei Magnitsky Law), received final approval in the Senate of Canada. "Bill S-226 places a discretionary tool at the government's disposal to apply sanctions against foreign nationals responsible for, or complicit in, significant acts of corruption and gross violations of internationally recognized human rights," said Senator Andreychuk, who is the sponsor of Bill S-226. "Through the application of asset freezes and travel bans, Canada will no longer be used to enable or shelter foreign nationals responsible for these violations."...
---
27.10.2017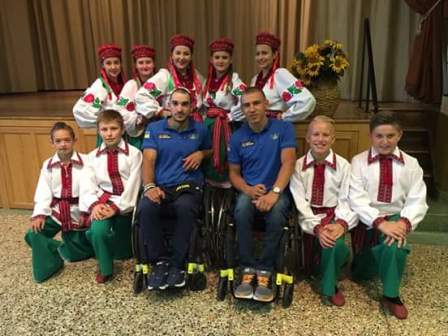 On Sunday 24 September 2017 the Hamilton community gathered for the annual Ukrainian Canadian Social Services (UCSS) Soup Kitchen. Every year the Soup Kitchen is hosted by a different Ukrainian church in Hamilton, and this year Holy Spirit Catholic Church offered their hall. Hamilton's UCSS offered two types of soups for their guests: traditional Ukrainian home-made borsch (a beet based soup) and rosil (chicken bouillon soup). Both soups were accompanied by freshly baked garlic bread. As guests were dining, the Hamilton Barvinok Dance Ensemble performed the Volhynian and Hutzul traditional Ukrainian dances. The UCSS's annual Soup Kitchen raises funds for...e...
---
25.10.2017
On 12th September, Canada's Ambassador to Ukraine, Roman Waschuk welcomed a group of CUPP Alumni and Interns selected for the 2017 Canada-Ukraine Parliamentary Program (CUPP) at his residence in Kyiv. The occasion was to celebrate Canada's 150th Anniversary and provide an opportunity for Ambassador Waschuk to prepare the Interns for their internship in the Canadian Parliament. In addition to celebrating Canada's 150th Anniversary, the meeting was an opportunity to celebrate the strong ties between Canada and Ukraine, the countries' common values and shared ambitions. In light of this Ambassador Waschuk spoke about Canada's proud traditions of multiculturalism and of his belief that 'Ukrainian DNA' has been deeply integrated into the Canadian identity, placing particular stress on the important role that Ukrainians have played in contributing to the ethnic diversity and history of the Canada that we know so well today...
---
25.10.2017
The 2017 Canada-Ukraine Parliamentary Program began in September, with the arrival of 14 university students from Ukraine. We came prepared to serve an internship in the offices of Canadian Members of Parliament, celebrate Ukrainian Day on Parliament Hill, Prayer for Peace in Ukraine, and meet Canada's government officials and parliamentarians. On arrival we were happy to learn that we would also participate in celebrations of Canada's 150th birthday, the Invictus Games and the Terry fox Run to defeat cancer. The Invictus Games, an international sports competition for wounded, injured and ill soldiers was taking place in Toronto and Ukraine was sending a team for the first time...
---
YOUR NEEDS. FOR LIFE ™

WHY JOIN BUDUCHNIST CREDIT UNION?