THE "FRIENDS OF UKRAINE DEFENCE FORCES" FUND

25.03.2015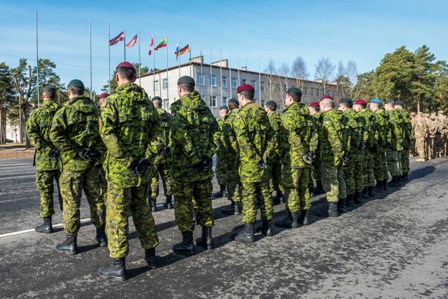 On 18 March Canadian Minister of Foreign Affairs, the Honourable Rob Nicholson, announced three initiatives to support Ukraine's continued efforts in building a more peaceful, democratic, and prosperous future for its citizens. The announcement, which was made on behalf of the Honourable Christian Paradis, Minister of International Development and La Francophonie, focused on Ukraine's democratic development, an area in which Canada has regularly contributed to in the past. The newly announced funding, totaling $7.1 million, will be distributed amongst three projects: $1.2 million to the Organization for Security and Co-operation in Europe to support the...
---
24.03.2015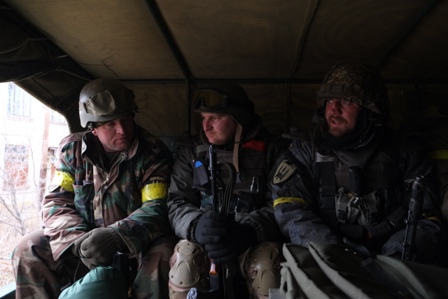 From a distance, the war in eastern Ukraine seems to have changed little since its beginnings in the spring of 2014. The groups fighting are the same – the Ukrainian army, the pro-Ukrainian volunteer battalions, and the Russian forces along with their proxies. Territory has been gained here and lost there. Ceasefires have been instituted and violated. But from within, the war of late winter is different from that which was being fought during the summer. I rejoined Donbas Battalion at the end of February. The group had split up since I was last with them in August: the second in command – Filin – had created a splinter group (also called Donbas Battalion) and the remaining group under Semen Semenchenko was fragmented and of a very different makeup than during the summer. Many of the men from the...
---
20.03.2015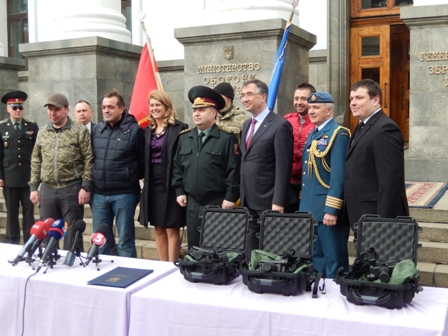 On March 18, 2015 outside of the Ministry of Defense in Kyiv, a press conference was held that was attended by Ukraine's Minister of Defence Colonel General Stepan Poltorak, the Ambassador of Canada to Ukraine, Roman Waschuk, and Lenna Koszarny, Chair of the Ukrainian Canadian Congress Ukraine Advisory Council, along with members of the Ukrainian and Canadian militaries. At the press conference it was announce that the first shipment of the PVS-7 night vision optic system was delivered from Canada to Ukraine. This latest aid package was in accordance to the November 2014 Government of Canada announcement that it would be sending a provision of...
---
18.03.2015
What were NATO Supreme Commander, General Phil Breedlove's thoughts when he heard that Boris Nemtsov, Russia's political opposition leader and Russian President Vladimir Putin's nemesis, was executed by four bullets to the back? Video footage of the cold Moscow night shows men getting out of cars, running, darting under the bridge, cars fleeing; a snowplow masking the execution. A beautiful Ukrainian woman is taken by police: Snare or victim? We may never know. She was taken into custody before being allowed to return to Kyiv on March 2. Such is the start of Putin's "full and transparent" investigation. Crimes within...
---
18.03.2015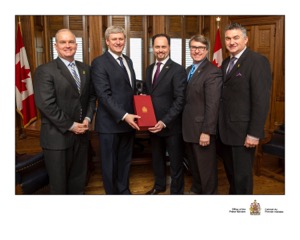 Mr. Ihor Kozak was awarded a Canadian flag by Prime Minister Stephen Harper in recognition of his significant contributions to Canada and the well-being of its citizens. This award comes in light of our flag's 50th anniversary and Mr. Kozak is one of 50 individuals and organizations that have significantly contributed to Canada. Mr. Kozak was nominated by three MP's, Minister Erin O'Toole, Mr. James Bezan and Mr. Ted Opitz, all three of whom have worked with Mr. Kozak in the military or through community work. Mr. Kozak served our country as a decorated officer in the Canadian Forces, at home and abroad, and...
---
18.03.2015
International Trade Minister Ed Fast joins Member of Parliament for Etobicoke Centre Ted Opitz and Parliamentary Secretary to the Minister of Foreign Affairs and for the Francophonie Bernard Trottier at a round table for Ukrainian-Canadian community leaders from the Greater Toronto Area to discuss recent events in Ukraine and the Canadian-Ukrainian partnership. Canada is at the forefront of the international support for the Ukrainian people in their opposition to...
---
08.03.2015
The danger to the free world lies with enablers as much as with the terrorists. Collaborators in positions of power are as damaging as a dictator's attack on a sovereign state. Their failure to take a stand emboldens the aggressor to make a mockery of democratic values— the right to life, liberty, rule of law, peace, home—and the institutions set up to protect them. Today, the starkest collaborators are those enabling Russia President Vladimir Putin's aggression against Ukraine. The move by Chancellor Angela Merkel and President Francoise Hollande to hold a tri-partite talk preceding the Minsk 2 negotiation last week was wrong. The secretive...
---
08.03.2015
THE Russian government is spending millions of dollars to push its propaganda on Australian audiences, with Foxtel and Fairfax doing deals with the ­volatile regime. Following revelations Russian President Vladimir Putin is infiltrating Australia with spies at levels not seen since the Cold War, The Australian can reveal Russia is paying Foxtel an ­estimated $2 million a year to broadcast its state-owned channel, Russia Today. The channel launched on Tuesday, with Foxtel's executive director of television, Brian Walsh, issuing a press release ­describing the channel as "an ­important voice in bringing ­another perspective to world ­affairs, with...
---
08.03.2015
An event held on 4 February at Winnipeg's Canadian Museum for Human Rights (CMHR), drew some five hundred people interested in learning more about the devastating famine created by Bolshevik leaders intent on breaking Ukrainian resistance to the Kremlin's forced collectivization drive and preventing the real or imagined threat of Ukraine ever separating from the Soviet Union. Organized by the CMHR and the Holodomor Awareness and Education Committee of the Ukrainian Canadian Congress (UCC), Manitoba Council, "Covering or Uncovering the Truth: Media Reporting on the Holodomor," examined how a free press could...
---
08.03.2015
The tragedy that took place on May 18, 1944 changed the lives of Crimean Tatars forever. This pain is unforgettable. Just think for a moment - all death, suffering, and pain were made by man. To understand the pain of others is a gift from God, and I am happy that we have a lot of gifted people who can understand a person's problem and respect the rights of all others. How terrible it would be, if God left selfish people without the gift of understanding people's pain. It is not enough to be born as a human. We have to follow the rules of morality to be different from animals. We are all the same human beings, seeking happiness, peace, and freedom. We all want to...
---
TOGETHER WE ALL WIN

WHY JOIN BUDUCHNIST CREDIT UNION?