THE "FRIENDS OF UKRAINE DEFENCE FORCES" FUND

28.09.2014
In Part II of our three part series, Ukrainian Echo talks to Babylon'13 cinematographers Phillip and Andriy Rozhen about the project's current work, the international presence at Euromaidan, and the transformations they witnessed in Ukrainians as a nation. UE: Where does the Babylon'13 project stand today? Are you still filming? A: Yes, almost every week you will find new videos from eastern Ukraine. We shot when Crimea was being annexed, when the war began, and we continue to shoot now. Babylon'13 will likely exist until these major problems in Ukraine don't exist anymore. UE: What is the Babylon'13 project now trying to...
---
26.09.2014
Last week Ukrainian Echo sat down with Phillip and Andriy Rozhen, a director and producer from the organization Babylon'13, a "cinema of civil society." Thousands have watched their videos on YouTube (https://www.youtube.com/user/babylon13ua), which give audiences around the world a firsthand look at what has been happening in Ukraine since late 2013. This summer, Phillip and Andriy were on a cross-country tour of Canada promoting the work of Babylon'13 and the case for Ukraine. Many would agree that their videos are captivating, invaluable tools for information dissemination, and like their videos, the creative minds behind Babylon'13 are no less interesting. UE: What were you doing before Euromaidan revolution began? P/A: We are cinematographers. I am a director and Philip is a producer. Our father is also a professional cinematographer, script writer, and director. UE: How and when did you first...
---
25.09.2014
Many policy makers and political analysts have compared Russia's invasion of Ukraine's sovereign territory – Crimea – with Hitler's aggression against Czechoslovakia and the 1938 Anschluss of Austria. An analysis of the unprecedented actions of Putin in modern European history demonstrates the striking similarity between the strategy of the Nazi Führer and the current leader of the Kremlin, notwithstanding differences in time periods and circumstances. HITLER'S THEORIES… In 1940, by which time the flame of the Second World War was burning strong, and still when Stalin was an ally of the Führer, a book was published in...
---
25.09.2014
16 September proved to be a pivotal day in Ukraine's shaky post-revolution history. In addition to the ratification of the EU-Ukraine Association Agreement, Ukrainian parliament passed three bills, all of which are intimately related to the November protests of last year, sparked by ex-president Yanukovych's decision to back out of the Association Agreement at the last minute. One of the bills responded to the much-called for demands of lustration of government officials, reflecting the spirit and a core raison d'être of the Euromaidan revolution. The others were more controversial, giving the Donetsk and Luhansk regions (collectively, the Donbass) special status for the next three years, as well as granting "participants in the...
---
19.09.2014
On November 2nd, 2014 the world première of the art songs of four Galician composers will be showcased at the resplendent Koerner Hall: the late romantic Denys Sichynsky, post-romantic Stanyslav Liudkevych, impressionist Vasyl Barvinsky and modernist, as well asUkraine's first female composer, Stefania Turkewich. We invite you to support this unique event which brings the beauty and excellence of Ukrainian classical composition to one of the finest stages. International operatic star Pavlo Hunka, bass- baritone and accomplished piano accompanist, Albert Krywolt, will be...
---
19.09.2014
On 28 August 2014 in Kyiv in the Cabinet of Ministers of Ukraine the President of the Ukrainian World Congress (UWC), Eugene Czolij, joined by members of the UWC leadership, met with the Prime Minister of Ukraine Arseniy Yatseniuk and signed a Memorandum on Cooperation between the Ukrainian World Congress and the Cabinet of Ministers of Ukraine (Memorandum). Participating in the meeting on behalf of the UWC were First Vice President Jaroszlava Hartyani, Second Vice President Orysia Sushko, Secretary General Stefan Romaniw, Vice President Paul Grod, Director of Humanitarian Initiatives Dr. Ulana Suprun and Deputy Director of the UWC Kyiv Office Sviatoslav Yurash. The participants at the...
---
19.09.2014
The Ukrainian Australian community is strongly requesting that the Australian Government bring to the UN Security Council, as well as its Western democratic allies, the consideration of logistical and military support forUkraine. Mr Stefan Romaniw OAM, President of the Australian Federation of Ukrainian Organisations, who is currently contactable inUkraine, said: "Under Prime Minister Abbott and Foreign MinisterBishop,Australiahas taken an international leadership position in defence ofUkraine's territorial integrity and...
---
19.09.2014
Once the Kremlin seized and "annexed" Crimea in late March, it began a campaign designed at a minimum to destabilizeEastern Ukraine. While we cannot know for sure what Mr. Putin's maximalist goal is, it includes, at least, establishing an autonomous southeasternUkrainesensitive toMoscow's interests. The Kremlin, however, badly miscalculated. It acted as if it believed its own propaganda, pumped out byRussia's state-dominated media, that the ethnic Russians and "cultural Russians" inUkraine's east and south were seriously unhappy about the departure of former...
---
19.09.2014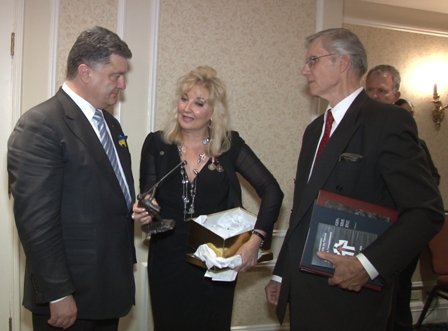 On September 17, President of Ukraine Petro Poroshenko arrived to a warm welcome on Parliament Hill. His first official visit toCanadasince being elected in May 2014 was short but successful, and undeniably memorable for many of those in attendance. Given all that has occurred inUkrainesince the Euromaidan revolution began in late November 2013, Poroshenko's presence was a meaningful one, symbolizing the close partnershipCanadaandUkrainehave developed in recent history. Hearing the Ukrainian anthem played...
---
14.09.2014
Ukraine was invaded by Russia and has been dismembered. What happened was not an intervention or an incursion. The Kremlin's black deeds were not a "stealth war," nor a Cold War. It was bloodthirsty hot. Ukraine's Crimea has been under Russian military occupation since March. Heavy weapons fired from inside the Russian Federation have killed Ukrainian soldiers and civilians. More recently, Russian armour and aircraft attacked defending Ukrainian units. Tellingly, POWs were exchanged. Ukraine still faces an (ex)-KGB man turned president-in-perpetuity who barks on how Kyiv 's government is "Nazi" even as he parades about cobbling together an ethnic Russian empire. Is "Putler," as some Ukrainians have...
---
TOGETHER WE ALL WIN

WHY JOIN BUDUCHNIST CREDIT UNION?