THE "FRIENDS OF UKRAINE DEFENCE FORCES" FUND

21.05.2015
In early April 2015 the Ukrainian government approved several laws that should have been implemented several (roughly 25) years ago. Poland and the Baltic States already have similar legislative laws in place and yet the sole criticising voice to those laws was Russia – the West, and in particular, Western academics, remained silent to these countries' decisions on how to frame their national history. Yet, in Ukraine, the reaction was very different. Basically, the four laws are: renaming the Great Patriotic War to the Second World War (and in so doing, acknowledging that the war began...
---
30.04.2015
One year ago, on 18 March 2014, the international community was witness to the most insolent since the Second World War violation of international law – the forceful annexation by the Russian Federation of Crimea, an integral part of the territory of the Ukrainian state. The United Nations, in the resolution Territorial integrity of Ukraine adopted by the General Assembly on 27 March 2014 on the illegal so-called "referendum" in Crimea held on 16 March 2014, declared...
---
30.04.2015
Russian President (for life) Vladimir Putin has proved himself to be a liar, a ruthless and maniacal tyrant, and a threat to the Western world; a world that espouses freedom, individualism, and peace. Putin's Pinocchio-nose has grown off the page when it comes to Ukraine. While he bare-face lies to the world that the Russian army is not in Ukraine, Putin's Russian army has invaded Ukraine, is killing thousands of Ukrainians, and is responsible in the...
---
30.04.2015
From a distance, the war in eastern Ukraine seems to have changed little since its beginnings in the spring of 2014. The groups fighting are the same – the Ukrainian army, the pro-Ukrainian volunteer battalions, and the Russian forces along with their proxies. Territory has been gained here and lost there. Ceasefires have been instituted and violated. But from within, the war of late winter is different from that which was being fought during the summer. I rejoined Donbas Battalion at the end of February. The group had split up since I was last with...
---
22.04.2015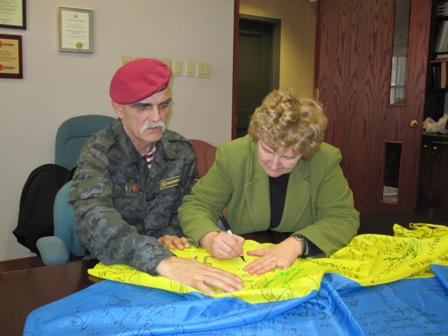 2014 marked another year of growth and success for Buduchnist Credit Union. With net income totaling $2.7 million, BCU and BCU Foundation were able to provide over $1.4 million throughout the year in support of various community needs. 2014 was also a year without recent precedent for Ukraine and her people. The year saw the country take on new struggles in its quest for freedom and democracy, beginning with the EuroMaidan Revolution and culminating in the current, ongoing struggle for territorial sovereignty in eastern Ukraine. Sadly, these hard times have demanded continued sacrifice, and have demanded Ukraine's sacrifice of her best men and women. Throughout all of these events, BCU...
---
22.04.2015
Valentina Lisitsa, a well-known classical pianist whose Twitter feed regularly features barbed political commentary about the conflict in Ukraine, was dropped from two performances this week with the Toronto Symphony Orchestra, after the ensemble cited concerns over her "deeply offensive" and "provocative" online remarks. Lisitsa, a Ukrainian-American who was scheduled to perform Rachmaninoff's Piano Concerto No. 2 with the Toronto Symphony (TSO) this Wednesday and Thursday, took to Facebook on Monday to accuse the orchestra of censorship. "Yes, Toronto Symphony is...
---
21.04.2015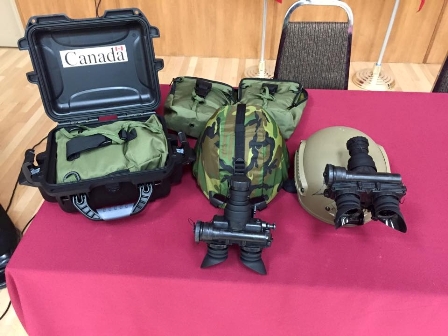 On April 17, 2015 it was announced that Canada will be sending an additional 178 state-of-the-art night vision goggles to Ukraine. This newest shipment of specialized equipment compliments the 60 night vision goggles already delivered to Ukraine in March, bringing the total to 238. "We believe that these goggles will enhance the capabilities of the Ukrainian armed forces in their fight to defend their country's sovereignty and their territorial integrity," stated Conservative MP Ted Opitz. The goggles, for which the Government of Canada has...
---
17.04.2015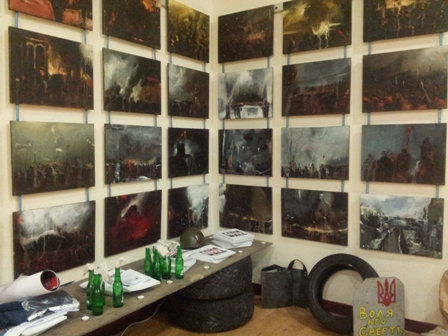 On a sunny March afternoon at the Ukrainian Club "Karpaty" in London, England, a group of volunteers are moving a few dozen boxes. On each box is a different Ukrainian address and each will be part of the latest shipment to the front lines in eastern Ukraine. In an interview with Nadia Pylypchuk, the social media representative of Euromaidan London, it was explained that the idea of helping Ukraine began when Ukrainians in London started watching the events on the Maidan and wanted to do something in London to help. "It started with protests in front of...
---
08.04.2015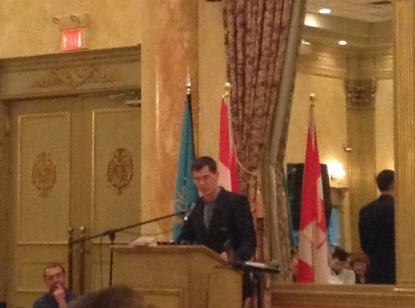 On March 22 members of the Ukrainian Canadian community in Toronto gathered to hear first-hand accounts from volunteers who have spent much of the past year on the front lines of the war in Ukraine. The event - entitled Na Linii Vohniu (On the Line of Fire) - featured Serhii Kuzan, a Maidan activist and the head of a leading all-Ukrainian volunteer group Vilni Liudy (Free People), and Nazar Volynets, also a Maidan activist and commander of a platoon in the Aidar volunteer battalion. Kuzan has been working closely with the League of Ukrainian Canadians (LUC) and League of Ukrainian Canadian Women (LUCW) over the past year to ensure that money...
---
02.04.2015
James Bezan, Member of Parliament for Selkirk-Interlake and parliamentary secretary for national defence, in Kingston, Ont. on Thursday March 12, 2015. Bezan spoke with Royal Military College cadets about Canada's role in Ukraine. Steph Crosier/Kingston Whig-Standard/QMI Agency The Canadian Forces' logistical role in Ukraine could expand to a training mission with support from the United States, James Bezan, MP and Parliamentary Secretary for National Defence, said in Kingston Thursday. Bezan, MP for Selkirk-Interlake in Manitoba, was in town to speak to Royal Military College cadets about Canada's ongoing efforts in Ukraine. The situation in Ukraine, though, in its second ceasefire, is not close to being over, Bezan said...
---
TOGETHER WE ALL WIN

WHY JOIN BUDUCHNIST CREDIT UNION?