THE "FRIENDS OF UKRAINE DEFENCE FORCES" FUND

09.07.2015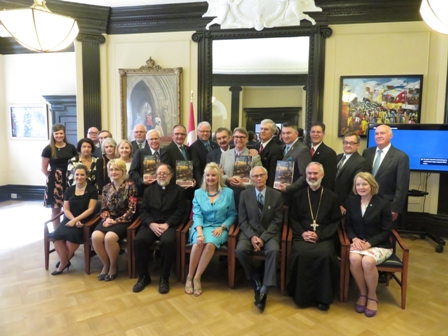 In May 2008 the Canadian Parliament unanimously passed the Ukrainian Famine and Genocide Holodomor Memorial Day Act recognizing the Holodomor as an act of genocide perpetrated against the Ukrainian people by the Communist regime under Stalin. To show their appreciation, on June 15 the League of Ukrainian Canadians (LUC), the League of Ukrainian Canadian Women (LUCW), Homin Ukrainy/Ukrainian Echo newspaper, and Ucrainica Research Institute organized a special reception on Parliament Hill for all Members of Parliament and the Ukrainian Canadian community in Ottawa...
---
04.07.2015
Ukrainian nationalism was and remains an ideology that sprouted and developed as a national liberation movement in the modern era. It is not possible to designate one founder or main ideologue of Ukrainian nationalism. However, the following individuals contributed substantially to it with the first being perhaps, the foremost in his overall influence: Taras Shevchenko, Julian Baczynsky, Mykola Mikhowsky, Dmytro Dontsov, Petro Poltava, Osyp Diakiw Hornovyj and others. This spectrum consisting of ...
---
04.07.2015
President Petro Poroshenko had a meeting with UWC leaders - President Eugene Czolij and Secretary General Stefan Romaniw, as well as President of the Ukrainian Canadian Congress Pavlo Grod. The Head of State noted that the UWC was a powerful force in the protection of Ukraine's interests in the world. "It is a pleasure that we coordinate our efforts in various spheres so efficiently," the President said adding that it was particularly related to the issues of volunteer assistance to the militaries, inter alia, technical equipment of the Ukrainian troops. The President has noted the...
---
02.07.2015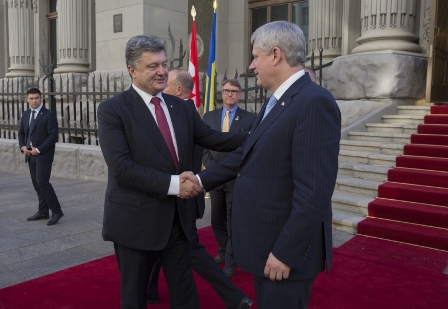 On 6 June, Canadian Prime Minister Stephen Harper visited Kyiv to reaffirm Canada's solidarity and ongoing support for Ukraine. Significantly, the visit – Harper's third since January 2014 – took place on the eve of this year's G7 Summit in Schloss Elmau, Germany. During the visit Prime Minister Harper met with President Petro Poroshenko and Prime Minister Arseniy Yatsenyuk to discuss the international community's response to Russian aggression and Canada's continued support for Ukraine's ambitious economic and democratic reforms. "Canada strongly condemns Russia's aggressive actions in eastern Ukraine and its illegal annexation of Crimea, and will continue to stand with the people of Ukraine in the face of the ongoing violation of the country's sovereignty and territorial integrity," stated Harper. "I am glad to ...
---
23.06.2015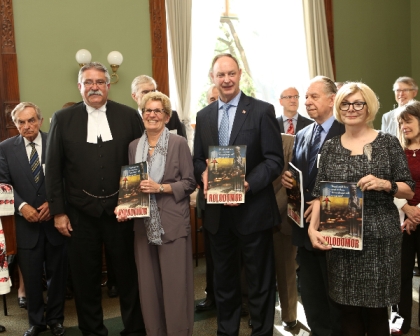 On May 26, the Ukrainian Canadian Congress – Toronto Branch and the League of Ukrainian Canadians co-hosted a special reception at Queen's Park to express their appreciation to the Government of Ontario for moving forward with the inclusion of the Holodomor - the 1932-1933 genocidal famine in Ukraine - in the newly revised History and Social Studies secondary school curriculum in Ontario. Prior to the reception, Etobicoke-Centre MPP Yvan Baker delivered a brief statement in the Chamber of the Legislative Assembly of Ontario on the importance of recognizing the Holodomor and honouring its victims. Special guests at the event included...
---
10.06.2015
Over the past year, I met with religious, cultural, and political leaders throughout Canada, Ukraine, Turkey, and the United States, discussing the prospect of establishing a single national autocephalous Ukrainian Orthodox Church recognized by the Ecumenical Patriarch. The foundation of this new Church would be based on historical precedent and the legacy of the conversion of Kyivan-Rus' to Orthodox Christianity in 988, which, arguably, was the beginning of Orthodoxy in mainland Europe. Everyone that I met with agreed that unity of the Orthodoxies in Ukraine was a desirous and necessary goal. Most recently, from January 15th to January 25th, I travelled to...
---
10.06.2015
The Ukrainian Canadian Congress will host Ottawa's first annual Ukrainian summer festival to recognize, celebrate, promote and nurture Ukrainian arts, heritage, and culture. Traditional, authentic Ukrainian food, including varenyky ("perogies") will be served to an estimated minimum of 5,000 Festival patrons from around the world. Those devoted to classics and ancient traditions will also be able to enjoy Lvivske 1715 (Львівське) from the oldest still-functioning brewery in Eastern Europe. Several popular artists and musicians will draw in crowds beyond the Ukrainian community as they entertain non-stop on Saturday and Sunday. The Festival is...
---
10.06.2015
Canada, along with other G-7 states, the EU and Ukraine, announced on April 29th an additional financial package for the completion of the Chornobyl shelter, during a pledging conference in London, United Kingdom. Canada pledged €8.75 million (approximately $12 million) toward completion of the project. These contributions will go toward the construction of the New Safe Confinement structure, which is intended to cover the destroyed unit 4 reactor at Chornobyl, the site of the world's worst nuclear accident. This commitment is a further expression of Canada's support for a secure and prosperous Ukraine. Canada has been a global leader in supporting the ongoing transition in Ukraine, as it tackles the challenges before...
---
10.06.2015
It is a great honour for me to be here, standing together with the President Poroshenko and his people of Ukraine in this very solemn and sacred place where we are honouring and commemorating many valiant and courageous Ukrainian soldiers and citizens who fought to defend their country, to defend their human dignity against the aggression of Nazism. It seems that I am hearing their ardent aspirations, their voices... ardent aspirations wishing the people of Ukraine to live in peace and harmony and preserving their sovereignty and territorial integrity. Yesterday I was with many European leaders and international organizations who...
---
05.06.2015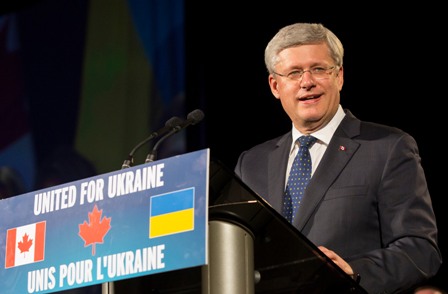 Homin Ukrainy/Ukrainian Echo will travel with Canadian Prime Minister Stephen Harper on his upcoming trip to Ukraine on June 5-6, 2015. The Prime Minister's trip immediately precedes the G-7 Summit on June 7-8, 2015 in Schloss Elmau, Germany. This will be Prime Minister Harper's third visit to Ukraine since January 2014. Together with President Petro Poroshenko and Prime Minister Arseniy Yatsenyuk, the three leaders will discuss the international community's response to Russian aggression and Canada's continued support for Ukraine's ambitious economic and democratic reforms. "I look forward to receiving a personal update on the situation in Ukraine from President Poroshenko and...
---
TOGETHER WE ALL WIN

WHY JOIN BUDUCHNIST CREDIT UNION?