Home » Ukrainians in Canada
Ukrainians in Canada
20.06.2017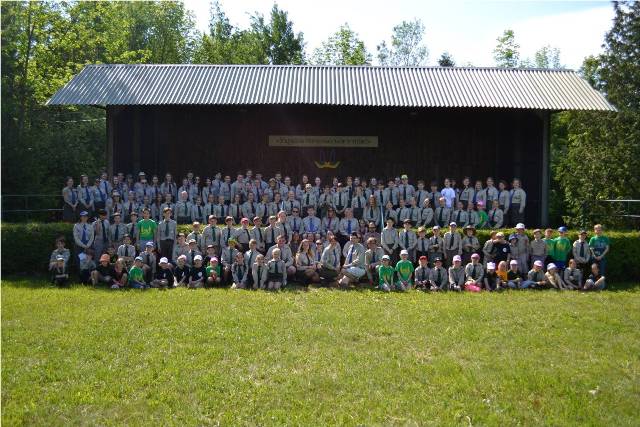 From June 10th – 11th, 2017, CYM (Ukrainian Youth Association) organized the first Canadian Zlet and one of the highest attended SvyatoVesny of the past decade.
Similar tozlets hosted in Ellenville, New York, each year in the United States; the Canadian Zlet was hosted at CYM's Camp Veselka in Acton, Ontario.
Over 120 children participated in the overnight camp which included participants from Montreal, Mississauga, and Etobicoke. Many people came to help-out from those cities, as well as others, including from as far away as Edmonton. The Cymivtisi, ranging in age from 4 to 17, participated in various physical, mental and linguistic activities. Saturday morning events included a presentation of their group projects (which were based on AktsiaVisla, UPA, CYM-knowledge, and Lemkivshtyna), rehearsing memorized Ukrainian poetry, written tests on Ukrainian history, and
Detailed...
---
14.06.2017
On May 18th Parliament Hill and the House of Commons was awash in bright colours as parliamentarians donned beautiful traditional Ukrainian embroidered shirts, "vyshyvankas," to celebrate International Vyshyvanka Day...
Detailed...
---
10.06.2017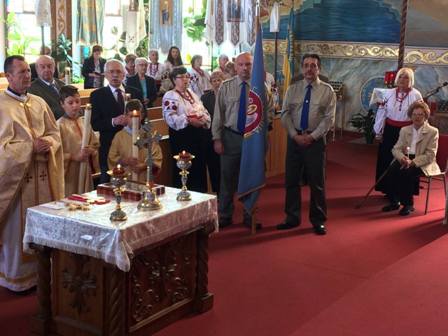 On May 28, 2017 the Ukrainian Canadian community in Hamilton commemorated the 70th anniversary of Akcja Wisla. In 1947, the Polish government deliberately forced thousands of Ukrainians off their ancestral lands. They were forced to leave their homes, valuables, and land for an uncertain future in northern and western Poland. Many of those who survived this ordeal where at the May 28 commemoration. Akcja Wisla, or Operation Vistula, was the final operation executed by the post-war Polish government in order to achieve its goal of having a mono-ethnic state. When the Second World War ended and the Yalta Conference decided the...
Detailed...
---
08.06.2017
Since August 25, 2015, the Mayor's Office has been engaged with the Board of Governors of Exhibition Place, The Holodomor Memorial Committee and members of the Ukrainian community to place a monument at Exhibition grounds in commemoration of Holodomor. The Mayor has championed the need for a monument by bringing it to his Executive Committee and passing it through City Council unanimously. At the ground breaking, the Mayor said, "Despite the years that have gone by, we must not – and we never will – forget Holodomor and the victims of this tragedy. The monument we dedicate will help keep that solemn vow." The monument...
Detailed...
---
05.05.2017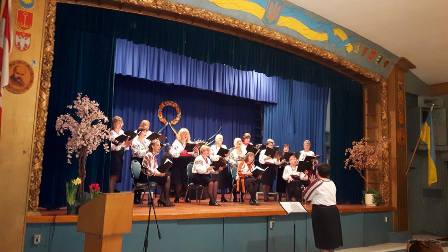 On one of the first spring afternoons in early April, the Svitanok Choir hosted an afternoon tea at the Ukrainian Cultural Center in Hamilton. Those attending were treated to songs, tea, biscuits and some fun with pysanky. The choir sang a few songs which included sing-alongs that many in the crowd knew, including "ChervonaRuta". The tables were also encouraged to draw their own pysanky designs that were then hung up along the walls. The tea was delivered...
Detailed...
---
23.03.2017
The Ukrainian Canadian Congress (UCC) is pleased to announce the launch of its project, Celebrating the Strength of Canada's Diversity: Youth Engaging Youth. The project is undertaken with the financial support of the Government of Canada's Department of Heritage Canada 150 Fund. With the Celebrating the Strength of Canada's Diversity: Youth Engaging Youth Project, the UCC will work with its member organizations across the country to organize youth-led and driven Canada 150 celebratory events in British Columbia, Alberta, Saskatchewan, Manitoba, and Ontario. Ukrainian Canadian youth will organize ten events in each province (ranging from sport to celebratory to cultural activities) working in partnership with youth from other ethnocultural, linguistic, and Indigenous communities...
Detailed...
---
23.03.2017
The Canadian Museum of History is pleased to announce that BCU Foundation is donating $100,000 in support of the Museum's new signature exhibition, the Canadian History Hall. The Hall will be the largest, most comprehensive and engaging exhibition about Canadian history ever created. It opens July 1, 2017 as Canadians celebrate the 150th anniversary of Confederation. BCU Foundation is a leading Ukrainian-Canadian charitable institution which promotes the vibrant growth and long-term development of the Ukrainian-Canadian community. Launched in 2006, the foundation delivers assistance to cultural and educational endeavors in Canada...
Detailed...
---
18.01.2017
The Nineteenth Toronto Annual Ukrainian Famine Lecture was delivered on November 11, 2016, by Serhii Plokhy, Mykhailo Hrushevs'kyi Professor of Ukrainian History and Director of the Ukrainian Research Institute (HURI) at Harvard University. His presentation, attended by a full auditorium at the University of Toronto, was titled "The Fields of Sorrow: Mapping the Great Ukrainian Famine."...
Detailed...
---
18.01.2017
Dear Prime Minister, We are very fortunate in Canada to have the right to provide input to our country's policy deliberations. We thank you for having previously considered our positions, including that on NATO, formulated in our letter of June 22, 2016. We sincerely hope that our ongoing inputs will continue to be helpful in determining the best options possible for these complex and uncertain times. No doubt, you and your officials will be communicating further with President-elect Donald Trump and the counterparts of his transition team. Through you, we extend our best wishes to the newly elected leader of our fine neighbour and hope that our relations will continue in the amicable and productive manner...
Detailed...
---
14.12.2016
The Ukrainian Canadian Congress (UCC) issued the following statement on National Internment Commemoration Day: "In 2014, the Endowment Council of the Canadian First World War Internment Recognition Fund and the UCC Internment Committee adopted resolutions designating October 28 as National Internment Commemoration Day in Canada. On this day, we commemorate Canada's First National Internment Operations (1914-1920) - the forced internment of 8,579 Ukrainians and other Europeans, who were branded 'enemy aliens' and sent to 24 internment camps across Canada. Men, women, and children suffered during Canada's First National Internment Operations, not because of anything they had done, but only because of who they were and where they had come from. On this day, we remember the victims of this injustice...
Detailed...
---
YOUR NEEDS. FOR LIFE ™

WHY JOIN BUDUCHNIST CREDIT UNION?