Home » Ukrainians in Canada
Ukrainians in Canada
18.01.2017
The Nineteenth Toronto Annual Ukrainian Famine Lecture was delivered on November 11, 2016, by Serhii Plokhy, Mykhailo Hrushevs'kyi Professor of Ukrainian History and Director of the Ukrainian Research Institute (HURI) at Harvard University. His presentation, attended by a full auditorium at the University of Toronto, was titled "The Fields of Sorrow: Mapping the Great Ukrainian Famine."...
Detailed...
---
18.01.2017
Dear Prime Minister, We are very fortunate in Canada to have the right to provide input to our country's policy deliberations. We thank you for having previously considered our positions, including that on NATO, formulated in our letter of June 22, 2016. We sincerely hope that our ongoing inputs will continue to be helpful in determining the best options possible for these complex and uncertain times. No doubt, you and your officials will be communicating further with President-elect Donald Trump and the counterparts of his transition team. Through you, we extend our best wishes to the newly elected leader of our fine neighbour and hope that our relations will continue in the amicable and productive manner...
Detailed...
---
14.12.2016
The Ukrainian Canadian Congress (UCC) issued the following statement on National Internment Commemoration Day: "In 2014, the Endowment Council of the Canadian First World War Internment Recognition Fund and the UCC Internment Committee adopted resolutions designating October 28 as National Internment Commemoration Day in Canada. On this day, we commemorate Canada's First National Internment Operations (1914-1920) - the forced internment of 8,579 Ukrainians and other Europeans, who were branded 'enemy aliens' and sent to 24 internment camps across Canada. Men, women, and children suffered during Canada's First National Internment Operations, not because of anything they had done, but only because of who they were and where they had come from. On this day, we remember the victims of this injustice...
Detailed...
---
12.10.2016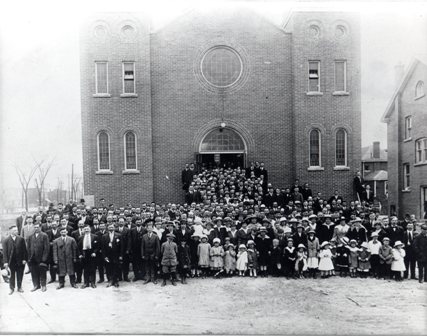 In 1916 several Ukrainian families sat around a table and decided to form a parish. That parish was called Holy Spirit Ukrainian Catholic Church and in October 2016 it is celebrating its 100 year anniversary. While this is a time for celebration, the new priest at Holy Spirit, Father Andrija Petresin, also wants to remind everyone of the hardships the parish has faced over its 100 year existence. In 1916 there were several hundred families that were active participants in the religious and national life of the Ukrainian community in Hamilton,and since thenthat number has ebbed and flowed. The original church was built by the first wave of Ukrainians to Canada, while the...
Detailed...
---
10.10.2016
The Holodomor National Awareness Tour is traveling to Saskatchewan and Manitoba this fall, with the first stop of its Holodomor Mobile Classroom in Yorkton, SK on September 23, 2016. The fall tour will focus on visits to schools, engaging students through a specially designed interactive lesson. In addition, the HMC will be featured at the XXV Triennial Congress of the Ukrainian Canadian Congress taking place in Regina, SK Oct 1-2 and at the Canadian Museum of Human Rights in Winnipeg, MB October 22nd – 23rd, as well as at other community events during the tour. The fall tour is being coordinated with the assistance of Val Noseworthy of the Instruction, Curriculum and ...
Detailed...
---
10.10.2016
Mr. Speaker, today marks the 75th anniversary of the Babyn Yar Massacre. On this date in 1941 in Kyiv, 34,000 Jewish men, women, children and infants were rounded up, stripped of their possessions, shot and dumped into the Babyn Yar Ravine by the Nazis. So began the "Holocaust by Bullets in Eastern Europe." This week a series of commemorative events are being held on this horrific anniversary. The Babyn Yar memorial project was spearheaded by the Ukrainian Jewish Encounter, a ground-breaking group founded and funded by Ukrainian Canadian businessman and visionary James Temerty. Thousands of forgotten "Holocaust by Bullets" sites are...
Detailed...
---
11.09.2016
The Canadian Institute of Ukrainian Studies (CIUS) has reached a milestone—it has turned forty. Founded at the University of Alberta in 1976, CIUS has expanded over the decades to comprise programs in Canada and, after 1991, in Ukraine. The interdisciplinary institute is made up of several centres and programs supported by endowments created by donors from the community, Government of Alberta grants, and the University of Alberta's budget. They include the Peter Jacyk Centre for Ukrainian Historical Research, the Ukrainian Language Education Centre, the Kule Ukrainian Canadian Studies Centre, the Kowalsky Program for the...
Detailed...
---
11.09.2016
Former prime minister Stephen Harper has been awarded one of Ukraine's highest honours. Ukrainian president Petro Poroshenko granted the Order of Liberty to Harper to mark the 25th anniversary of Ukraine's independence this week. Past recipients of the award, which recognizes contributions towards strengthening Ukraine's sovereignty, include top diplomats of NATO and the European Commission. Harper led the charge to have Russia booted out of the G8 following that country's annexation of Crimea in 2014. As prime minister, he also pledged millions in military trainers and other forms of aid to Ukraine, which was also one of the...
Detailed...
---
11.09.2016
Ukraine marks 25 years since the Declaration of Independence from the Soviet Union in 1991. The day is not only celebrated in Kyiv with a patriotic and large-scale military parade, but also observed and celebrated across the world wherever Ukrainians reside. This year, according to the EuroMaidan Press, there were 105 celebrations worldwide dedicated to Ukraine's 25th anniversary of Independence. In Toronto, the League of Ukrainian Canadians (LUC) in co-operation with the Ukrainian Canadian Congress (UCC), Toronto Branch, organized an official Ukrainian flag-raising event in front of the Ontario Legislative Building at Queen's Park. The celebration was attended by over two hundred community members who waved their blue and yellow flags, shared their recollections of the beginnings of the sovereign state of Ukraine, and greeted each other with the patriotic "Glory to Ukraine!"
Detailed...
---
11.09.2016
The Toronto Branch of the Ukrainian Canadian Congress (UCC-Toronto) welcomed over 10,000 people to the 25th annual Ukrainian Independence Day celebration on Saturday, August 20 at Centennial Park in Toronto. A full day of greetings, festivities, and entertainment was enjoyed by all. This Independence Day celebration marked not only a quarter century of Ukraine's independent statehood, but also commemorated three additional historical milestones of the Ukrainian Canadian community: The 125th Anniversary of Ukrainian Settlement in Canada, the 160th Anniversary of the birth of Ivan Franko, and the 75 Year Anniversary of the Ukrainian Canadian Congress which represents the Ukrainian Canadian community across Canada. This event was attended not only by...
Detailed...
---
YOUR NEEDS. FOR LIFE ™

WHY JOIN BUDUCHNIST CREDIT UNION?