Home » Diaspora
Diaspora
27.10.2017

HAMILTON SOUP KITCHEN WELCOMES THE INVICTUS GAMES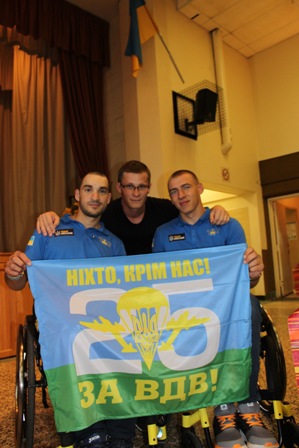 Roman Panchenko and Serhij Kaletiukreunited
with fellow veteran Yurii Aleksandrov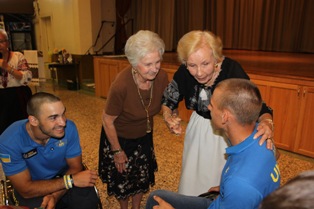 Panchenko and Kaletiuk chat with some fans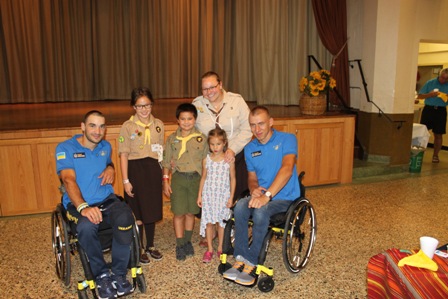 Panchenko and Kaletiuk meet with young
members of the Ukrainian Canadian community
in Hamilton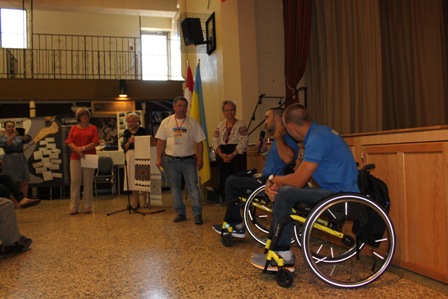 Roman Panchenko and Serhij Kaletiukspeak with
the Ukrainian Canadian community in Hamilton
Larysa Zariczniak
Hamilton, ON
On Sunday 24 September 2017 the Hamilton community gathered for the annual Ukrainian Canadian Social Services (UCSS) Soup Kitchen. Every year the Soup Kitchen is hosted by a different Ukrainian church in Hamilton, and this year Holy Spirit Catholic Church offered their hall.
Hamilton's UCSS offered two types of soups for their guests: traditional Ukrainian home-made borsch (a beet based soup) and rosil (chicken bouillon soup). Both soups were accompanied by freshly baked garlic bread. As guests were dining, the Hamilton Barvinok Dance Ensemble performed the Volhynian and Hutzul traditional Ukrainian dances.
The UCSS's annual Soup Kitchen raises funds for assistance in Ukraine. Earlier, they raised $30,000 through charitable donations from the Ukrainian community, which went towards providing warm clothing, footwear, and medication to those protesting during the Revolution of Dignity in 2013-2014. Additionally, they provided assistance to those injured on Kyiv's Maidan and to the families of the "Heavenly Hundred". Once the annexation of Crimea and Russian invasion of Ukraine began in the spring of 2014, they also supported refugees from Crimea and eastern Ukraine.
One of their latest charitable acts was to take three injured Ukrainian soldiers under their wing. The UCSS covered their treatment and rehabilitation costs and continued their monetary support until all three got back onto their feet.
That is why this year's Soup Kitchen was especially poignant. Two members of Invictus Games Team Ukraine came to share their stories with the Ukrainian community in Hamilton. The Invictus Games is an international multi-sport competition created by Prince Harry for wounded, injured, or sick armed service personnel. Launched in 2014, the 3rd Games were held in Toronto to mark this country's 150th anniversary of Confederation. Named after Invictus – Latin for "unconquered" – the first games took place in London, England and again in 2016 in Florida, U.S.A. Next year's Games will be hosted by Australia.
This year marks Ukraine's first year participating in the Invictus Games. Roman Panchenko and Serhij Kaletiuk are archers (Roman Panchenko won individual gold and Team Ukraine won silver for archery on 29 September). Both in their mid-20s, they suffered similar injuries on the front lines in eastern Ukraine. They joined the 25th Dnipropetrovsk Airborne Brigade in 2013 and were sent to the front with only a couple months' training. Both suffered injuries to their spines within a month of being on the front lines, and are now living in Lviv with spinal injuries that force them to use wheelchairs. Yet today they have channelled their strength, passion, and determination into the sport of archery.
Both veterans were pleasantly surprised by the Ukrainians who came together to give them a warm welcome in Hamilton. They took pictures with the children who danced in Barvinok and also met another veteran from the 25th Brigade who immigrated to Hamilton this year. The two athletes also received donations from the UCSS that will help them with their ongoing rehabilitation and provide for a better living in Lviv. They expressed their thanks and gratitude for everything that the Ukrainians in Hamilton have done to help the soldiers on the front lines, and those who have been injured both mentally and physically by the war.
Tamara Dudka, head of UCSS Hamilton, thanked everyone for attending and expressed her deep gratitude for the generous support and donations for this year's Soup Kitchen, which raised $3,485. If anyone would like to make additional donations they are asked to please contact their local Ukrainian Canadian Social Services branch.