Home » Around the Globe
Around the Globe
17.04.2015

THE ENGLISH UKRAINIAN DIASPORA'S SUPPORT FOR UKRAINE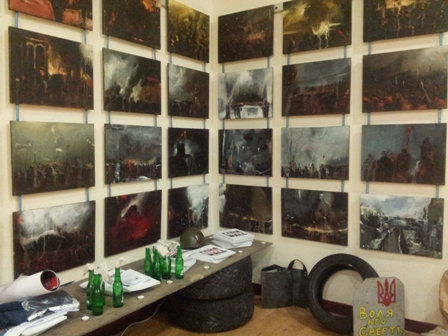 On a sunny March afternoon at the Ukrainian Club "Karpaty" in London, England, a group of volunteers are moving a few dozen boxes. On each box is a different Ukrainian address and each will be part of the latest shipment to the front lines in eastern Ukraine.
In an interview with Nadia Pylypchuk, the social media representative of Euromaidan London, it was explained that the idea of helping Ukraine began when Ukrainians in London started watching the events on the Maidan and wanted to do something in London to help. "It started with protests in front of Parliament Square and then they moved to the front of the St. Volodymyr statue…but when the war started, we decided to start 24/7 demonstrations in front of 10 Downing Street" to remind the British government of its involvement in the Budapest Memorandum.
At first Euromaidan London began to fundraise for orphans and Maidan victims, but "when the war started it reshaped what was needed and we started to collect for helmets, bullet-proof vests, etcetera," explains Nadia.
Euromaidan London is also involved in fighting Russian propaganda in the United Kingdom. They work "in different ways, like writing articles against Russian propaganda within the UK and also try to organize events to fight [it]." Previous events put on by Euromaidan London to counter the spread of Russian propaganda included a project called "Maidan: Ukraine's Road to Freedom," which is now touring around the world. This photo exhibition debuted in London in conjunction with a Mandry concert. They also staged a March for Peace on the day the Crimean 'referendum' was held, walking "from the Marble Arch to the Russian Embassy, [with] about 10,000 people [participating] including Georgians, Latvians and Venezuelans…Byelorussians and even some Russians."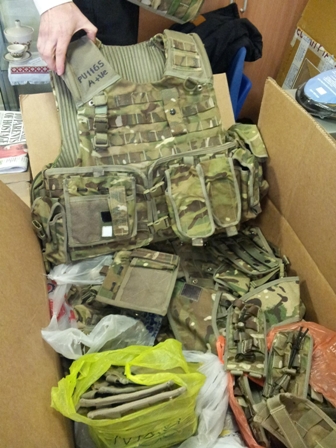 Tetiana Vovnianko, Euromaidan London's financial representative, has also been active since November 2013 and described how collected materials get to Ukraine, "We have orders from volunteers in Ukraine about what exactly the soldiers need and we collect everything and pack it. We work with a private courier network that delivers it to L'viv where the local post network then delivers it around Ukraine." Since mid-July 2014 Euromaidan London has raised approximately £117,000. The money is used to purchase needed goods, more than 30 tons of which has already been shipped to Ukraine. Tetiana explained that 20 percent of all the goods have gone to civilians, while the rest goes to "our boys" – the soldiers Euromaidan London supports. Nadia adds that they only work with Ukrainian volunteers and families as there is more openness about where the aid goes, and everything they send is documented and published on their Facebook page.
Euromaidan London works with the Association of Ukrainians in Great Britain who have provided their location in Holland Park, London as a collection point for aid to Ukraine. They have also given Euromaidan London permission to use their concert hall for free for any charitable concerts in support of Ukraine. Like many others, Nadia is of the opinion that the Maidan Revolution of Dignity and problems in Ukraine have "united us. ...There [aren't] many who are actively involved but we can clearly feel the support of the Ukrainian community…For example, Manchester also has a collection point and Wales has also been very supportive."
Nadia has been living in London for four years and is currently in law school. "I do miss Ukraine, I do want to work there…my aim was to get my education here and go back to work there. But when you look at the system back home, you just realize you can't be a fair lawyer. But it is still my aim to go back…I need Ukraine and Ukraine needs me," she says.
It's because of active Ukrainians in the diaspora like Nadia that international support for Ukraine has been so outspoken. These international volunteers create a network of supporters that have saved countless lives in the conflict in eastern Ukraine.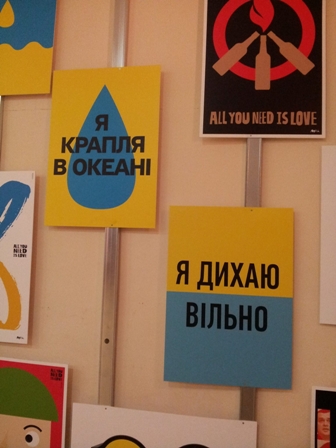 Nadia hopes to communicate with other Ukrainian diaspora communities to discuss ideas because, as she says, even the best of volunteers "need new ideas and ways to improve on them." She adds, when "you watch TV and you see people around the world and they're not calm and carrying on but doing something to change things, it makes you proud of being Ukrainian and makes you feel like you have to do something as well, that you can't be indifferent."
The young volunteer also tipped her hat to Ukrainian Canadian volunteers, and mentioned that "we would be very happy to work with Canada and obviously if Canadian volunteers would like, we would be happy to cooperate and coordinate with them."
Upcoming Euromaidan London events will be focused on supporting their new project entitled "Ukraine Aid," the main aim of which is to help wounded soldiers, internally displaced people, and orphans. To learn more about these events, please visit the Euromaidan London Facebook page.
Larysa Zariczniak