Home » Opinion
Opinion
08.11.2017

KYIV…AND WAR
On October 30 Amina Okuyeva, a renowned ethnic Chechen who fought as a Ukrainian volunteer sniper and medic in eastern Ukraine was killed (and her husband, Adam Osmayev, injured) in an attack in the countryside just outside of Kyiv. Both Okuyeva and her husband were staunch Putin critics. The assassination, blamed on Russian special services, is the latest in a string of attacks and attempted assassinations in Kyiv and throughout Ukraine. Okuyeva and her husband survived a previous assassination attempt in June of this year.
I often get asked "How's Ukraine? How's Kyiv?" upon my returns, and I never really know how to respond. Because on the one hand the trendy restaurants popping up everywhere, lively night scene, luxury cars parked on street corners, and weekly festivals would indicate that everything is great, and that war is the furthest thing from anyone's mind. But then, lurking behind these facades are the military hospitals and rehabilitation centres, filled with men and women who have been physically and psychologically traumatized by war, often roaming the hallways or sitting in their rooms with blank stares and empty eyes. There are the refugee centres attended by entire families that have lost everything and are literally surviving week by week. There are the hundreds of children in Kyiv alone who have been displaced and haven't been able to have a proper childhood. And that's just what I've seen, nevermind the destruction, devastation, and often impossible circumstances that people live under a mere six to eight hour drive from Kyiv.
And then there's another, even uglier reality - the reality that war is not isolated to just Luhansk or Donetsk like many people think. The war is happening in a European capital in the form of information/disinformation warfare, assassinations, and terrorist attacks. With the Ukrainian Parliament's recent vote to extend Ukraine's adherence to the Minsk agreements, Putin has shifted gears in an effort to create chaos, division, and confusion in Ukrainian society as a whole (and not only there...). Incidents such as these will only increase until the world finally and decisively stands up to Russian state sponsored terrorism.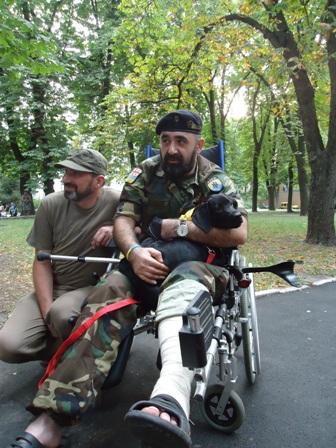 Hruzyn, pictured with puppy (now service dog)
Chief at the main military hospital in Kyiv. August 2015
I had the honour of meeting Amina last year at a conference on Ukrainian-Jewish relations. She struck me as a strong and principled woman, but at the same time down to earth and human. As for "Hruzyn," the ethnic Georgian who was killed last week, I met him over two years ago when Hero's Companion first began. He was one of the first to take part in our therapy dog sessions at the main military hospital in Kyiv. We bumped into him a few times after that, making sure to stop and chat every time, and then once healed he went back to the front...
Despite not wanting to believe it, I knew it would only be a matter of time before people that I knew or met personally were killed in this ongoing war of more than three years now. Perhaps most concerning of all is that their deaths were not accidental, but targeted and deliberate, meant to instill fear in others. Fear that standing up to the enemy will have grave consequences, whether you are at the front in the east of Ukraine or driving in the streets of Kyiv.
So the next time someone asks me "How's Kyiv?!" I can point to these and other recent incidents and definitively say, "It's like Toronto, but in a war zone."
RIP Amina, RIP "Hruzyn"
Kalyna Kardash
Kalyna is the Director of Hero's Companion, a project of the League of Ukrainian Canadians which works to harness the power of the human-canine bond to heal the invisible wounds of war.