Home » Ukrainians in Canada
Ukrainians in Canada
21.08.2017

THE 32ND ANNUAL LEMKO VATRA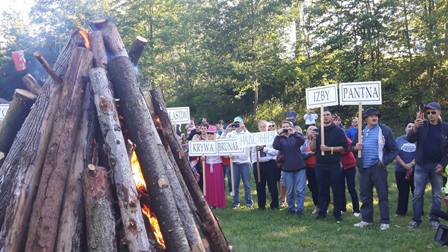 Larysa Zariczniak
During the civic long weekend, from 5 to 7 August, the Canadian Lemkos Association Inc. organized their 32nd Lemko Vatra in Elmwood, Ontario. The weekend was, as always, a great reminder of the struggles and accomplishments made by the Lemko community in Canada.
Although the weekend was affected by this summer's less than perfect weather (it was very cold during the night and a section of the Lemko Oselia was closed off due to flooding) a great time was still had by all. The festivities began with the official opening on Saturday when Larysa Bajus, the MC of the program, welcomed everyone and indicated the specialness of this year's Vatra – to commemorate the 70th anniversary of Akcia Wisla.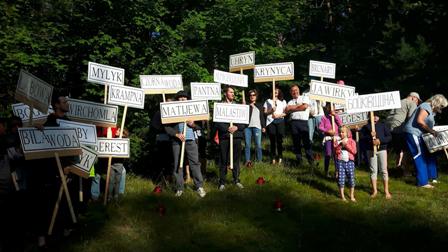 As the majority of those who established the Lemko Vatra in 1985 had some relative affected by the 1947 forced deportation of Ukrainians from their ancestral homeland, it was only fitting that this year's Vatra commemorated their fate. Several people held up signs of their villages that were deported during the military operation. The procession to light the vatra was lined with these village names – some of which no longer exist while others are no longer Ukrainian in character. During this, Oj Vershe Mij, Vershe (Ой верше мій, верше), a national Lemko song, was sung.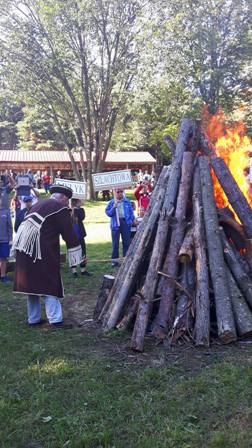 Mr. Stepan Bajus from Hamilton was the "Starostyna" of the Vatra and spoke briefly about his recollections of the deportations. He recited a song that his father sang that mentioned the pain and loss of identity that many Lemkos felt after 1947. He officially lit the vatra dressed in traditional Lemko costume, surrounded by Lemko families who were also affected by the loss of their homeland. The evening was completed by a musical montage organized by Anna Nazarovych which commemorated those who suffered during Akisa Wisla.
As always, this year's Vatra also included the traditional pig roast and zabava featuring "Mozaika". The dancing did not stop until about three in the morning! The next day, there was a special Olympic style tournament for the children and a liturgy at the main stage. This day was more leisurely as friends and families gathered around their tables to reminisce, remember, and have fun. The occasional accordion playing was also heard throughout the day. The event capped off with another zabava, this time with "Zolota Lira" playing.
Unfortunately, celebrations on the Monday were cut short by rain, a consistent weather pattern this summer. However, all in attendance agreed that this year was another successful Lemko Vatra, and are looking forward to the 33rd annual Vatra in 2018!