Home » Education
Education
29.03.2017
The Holodomor Research and Education Consortium (HREC) has announced the program for the 2017 Holodomor Education Conference: "Education–Awareness–Action," to be held May 5-7, 2017, at the Canadian Museum for Human Rights in Winnipeg, Manitoba. The conference engages educators who are interested in issues of human rights, social justice, democracy, and the genocides of the twentieth century, as well as in the methodologies, resources, and technologies for teaching the Holodomor - the murder by starvation of millions in Ukraine carried out by authorities in the Soviet Union in 1932-33...
Detailed...
---
12.05.2014
This bursary is for a Canadian citizen of Ukrainian descent enrolled in a Canadian university as a Doctoral candidate in the field of Education. Further information can be obtained by contacting the Shevchenko Foundation office at 866-524-5314 or visit http://www.shevchenkofoundation.com/scholarships-bursaries.html ...
Detailed...
---
15.11.2011


On Nov 9, 2011 the Faculty Club at the University of Toronto hosted the book launch of Andrew Gregorovich's latest work: Anna Yaroslavna, Queen of France and Princess of Ukraine. The book is dedicated not just to Princess Anna Yaroslavna, the daughter of King Yaroslav the Wise, who was born in 1032 in Kiev (old spelling), and who became Queen of France in 1051, but to her three sisters, Elizabeth (Queen of Norway), Anastasia (Queen of Hungary) and Agatha (Princess of England and Scotland). This is the first English book written about Queen Anna Yaroslavna and includes all of the 12 known portraits of Queen Anna that are published for the first time in one book...
Detailed...
---
17.12.2010


This course examines the evolution of modern Ukrainian culture and national identity through the prism of Ukrainian literary and cultural history. It presents and analyzes key works and developments in the fields of Ukrainian literature, drama, theatre, and intellectual thought from the 1920s to the present, examined within the European cultural context. A general overview is provided of the historical and social circumstances in which Ukrainian culture has developed. The course opens with an examination of the cultural renaissance of the 1920s and further covers Ukrainian interwar and postwar literature in Ukraine and the West, the "thaw" culture of the 1960s, dissident and underground literature of the 1970s and 1980s, and the literary culture of independent Ukraine...
Detailed...
---
09.05.2010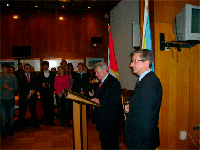 The Canada-Ukraine Parliamentary Program or CUPP was founded in the early 90's, on the eve of the collapse of the Soviet Union and the renewal of Ukraine's independence. Its founder and director was and remains Ihor Bardyn, son of Ukrainian immigrants, lawyer by profession. Along with some friends he established an educational Foundation to support the CUPP Program. CUPP has been maintained for the past 20 years from the interest earned by the Foundation's endowment fund. Over these years, a lot of energy and effort has been put into the program, to bring university students to Canada for a parliamentary internship, but all these endeavours are worth it, because this program is a starting...
Detailed...
---
08.03.2010


National hero, traitor, romantic figure – fact, spin and fiction, history and mythology, these were some of the issues explored at The Age and Legacy of Mazepa (1687-1709), a symposium co-sponsored by Oseredok Ukrainian Cultural and Educational Centre and The Centre for Ukrainian Canadian Studies, University of Manitoba. Held November 28, 2009 in Oseredok's art gallery with a backdrop of Legacy of the Cossack Elite, an exhibition of 17th and 18th textiles and maps in Oseredok's permanent collection, the symposium brought together five scholars who explored the various often divergent views about Hetman Ivan Mazepa, his place in Ukrainian history and culture. The stage was set by Dr. Orest Subtelny, Dept. of History, York University in Toronto, in a presentation entitled "Mazepa in the Context of East European History". Subtelny expanded on two opposing values underlying the structure of Ukrainian and Russian elites...
Detailed...
---
25.01.2010


Events across Canada commemorating the 76th anniversary of the Holodomor Famine Genocide in Ukraine 1932-33 National Events November 28, Holodomor Memorial Day, 9:00 a.m. A moment of silence and candle lighting in homes. November 29 A requiem service in all Ukrainian Catholic and Ukrainian Orthodox Churches across Canada with solemn tolling of bells 10 times in memory of 10 million. Calgary, Alberta November 22, 4:30 p.m. Calgary Premier...
Detailed...
---
18.10.2009


Twenty-five Ukrainian students recently arrived in Ottawa to take part in the 2009 Canadian–Ukrainian Parliamentary Program. For two months, they will represent their universities and, to a certain extent, act as official ambassadors of their home country, holding formal meetings with federal MPs, directors of government departments, leaders of various Canadian NGOs and representatives of the Ukrainian diaspora in Canada. For the past 19 years Ukrainian students have had an opportunity of receive hands-on training in the House of Commons by helping Canadian federal MPs and observe the overseas government offices operate. Thus, they have had an exceptional chance to compare the systems of state administration in Ukraine and Canada. Winning a ticket to Canadian parliament was not easy...
Detailed...
---
06.09.2009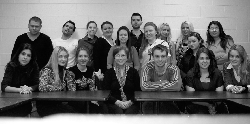 Daria Darewych is an art historian who has taught European art history courses at York since 1991. In 2002 she designed and started teaching a new course, Aspects of Ukrainian Culture, the first of its kind in Canada, in the European Studies Program at York. Ukrainian and Ukrainian Canadian art have been the focus of her research. She has written several monographs on Ukrainian artists and introductory essays to art catalogues in Canada, the USA, and Ukraine. She holds a Ph.D. in Art History from the University of London, Great Britain, and an MA in Art History from York University...
Detailed...
---
10.08.2007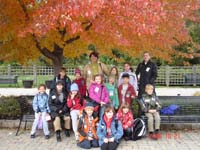 What's New at Tsiopa Palijiw Ukrainian Saturday School? Everything! Watching Saturday morning cartoons has become a reality for many students at Tsiopa Palijiw Saturday school. In fact, their Ukrainian school teachers actively encourage them to watch! Ukrainian language cartoons are just one of the unconventional teaching tools used by the dedicated teachers at Tsiopa Palijiw School to help their young students understand the Ukrainian language, currently spoken in Ukraine...
Detailed...
---
YOUR NEEDS. FOR LIFE ™

WHY JOIN BUDUCHNIST CREDIT UNION?