In response to Russian aggression against Ukraine, the League of Ukrainian Canadians (LUC) and the League of Ukrainian Canadian Women (LUCW) have established the group "Friends of Ukraine Defence Forces" (FUDF).
The purpose of the FUDF is to provide humanitarian assistance to the servicemen and women of the Armed Forces of Ukraine, who are protecting the Ukrainian State from aggression.
Humanitarian assistance from the FUDF consists of providing for the following needs of Ukrainian military personnel:
- Socio-economic
- Medical
- Educational and cultural
- Spiritual
-Support for families of fallen soldiers in defence of the Ukrainian State
We appeal to everyone who cares about the fate of Ukraine, to join the widening circle of friends of Ukrainian servicemen and women by making a direct donation to the account: FUDF FUND No. 68139 at "Buduchnist" Credit Union or by sending a cheque to the National Executive of LUC at:
League of Ukrainian Canadians
9 Plastics Ave.
Toronto, ON M8Z 4B6
Canada
E-mail: luc@lucorg.com
Tel: 416-516-8223
Your generous assistance will be directly used for the above-mentioned purposes and will be properly documented and gratefully acknowledged.
The project "Friends of Ukraine Defence Forces" enjoys the patronage of the International Council in Support of Ukraine (ICSU).
Orest Steciw Adriana Buyniak Willson
President, LUC President, LUCW
---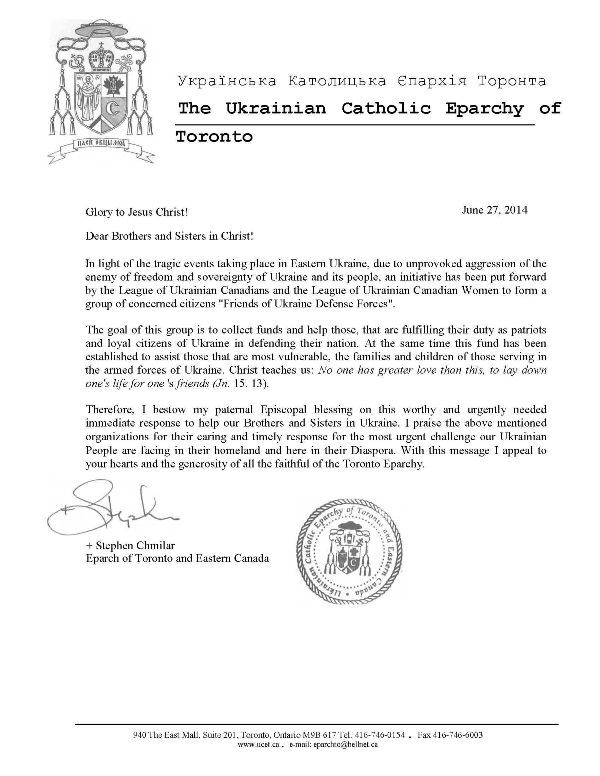 ---